The Santa Claus Man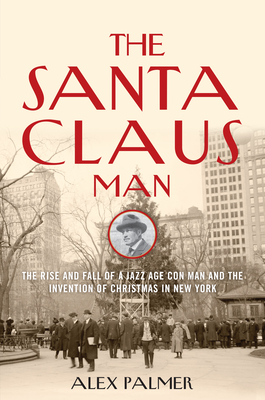 The Santa Claus Man
The Rise and Fall of a Jazz Age Con Man and the Invention of Christmas in New York
Lyons Press, Hardcover, 9781493008445, 320pp.
Publication Date: October 1, 2015
* Individual store prices may vary.
Buy at Local Store
Enter your zip code below to purchase from an indie close to you.
or
Buy Here
Description
Before the charismatic John Duval Gluck, Jr. came along, letters from New York City children to Santa Claus were destroyed, unopened, by the U.S. Post Office. Gluck saw an opportunity, and created the Santa Claus Association. The effort delighted the public, and for 15 years money and gifts flowed to the only group authorized to answer Santa's mail. Gluck became a Jazz Age celebrity, rubbing shoulders with the era's movie stars and politicians, and even planned to erect a vast Santa Claus monument in the center of Manhattan until Gotham's crusading charity commissioner discovered some dark secrets in Santa's workshop. The rise and fall of the Santa Claus Association is a caper both heartwarming and hardboiled, involving stolen art, phony Boy Scouts, a kidnapping, pursuit by the FBI, a Coney Island bullfight, and above all, the thrills and dangers of a wild imagination. It's also the larger story of how Christmas became the extravagant holiday we celebrate today, from Santa's early beginnings in New York to the country's first citywide Christmas tree and Macy's first grand holiday parade. The Santa Claus Man is a holidaytalewith a dark underbelly, and an essential read for lovers of Christmas stories, true crime, and New York City history.
About the Author
Alex Palmer is a journalist and researcher based in Brooklyn, NY. Drawing on the photos, documents, and historical data he uncovered about the Santa Claus Association during his several years of research, he curated an exhibit about the group that ran for three months at Brooklyn s City Reliquary museum. It sketched the story fleshed out in The Santa Claus Man, and garnered extensive media attention. The Village Voice, Time Out New York, and Flavorpill all selected it as a Critic s Pick event. WNYC dedicated a major holiday radio piece to it (streaming at wny.cc/1bQIx5k), which included interviews with Palmer, his 82-year-old great aunt, and even children narrating the century-old Santa letters received by the Association. The exhibit was also a cover story for The Brooklyn Paper and received coverage in New York Magazine and The New York Daily News. Palmer has written two previous books, most recently Weird-o-Pedia (Skyhorse Publishing, 2012), for which he researched hundreds of unusual facts about familiar topics ranging from Coffee to Valentine s Day. The book received special distribution by Urban Outfitters, Spencer s Gifts, and The Johnson Smith Company, and was featured in Mental Floss magazine s online store, selling more than 10,000 copies to date. It received media attention in Publishers Weekly, The Seattle Post-Intelligencer, and numerous syndicated radio programs, on which Palmer was interviewed. For his first book, Literary Miscellany (Skyhorse Publishing, 2010), he researched authors, works, and genres to provide an entertaining but useful survey of the history of literature. Literary Miscellany was excerpted in the Thanksgiving weekend edition of USA Today as well as Writer s Digest, and he promoted it with several live readings throughout Manhattan. Palmer is a full-time freelance writer, and his work has appeared in The New York Daily News, USA Today, United Airlines new Rhapsody Magazine, The New York Post, The Rumpus, and Publishers Weekly. He s written specifically about New York history and culture for Time Out New York, The New York Times The Local blog, The Brooklyn Eagle, and The Queens Times-Ledger. He is the co-founder and nonfiction editor of the literary journal Fawlt Magazine (fawltmag.com), which has hosted several live events. He is also a member of the Society of Professional Journalists and New York City s Deadline Club. He maintains a blog (alexpalmerwrites.com) and Twitter account (@theAlexPalmer) where he posts his latest publications, Santa Claus Man research, and other bits of interest. Palmer has an enduring love for all things Christmas, and still feels a thrill when he hears the first holiday song of the season, even if it s in October.