Forest of a Thousand Lanterns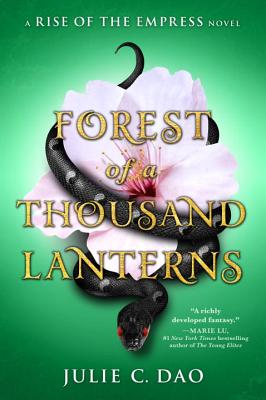 Forest of a Thousand Lanterns
Philomel Books, Hardcover, 9781524738297, 384pp.
Publication Date: October 10, 2017
* Individual store prices may vary.
Buy at Local Store
Enter your zip code below to purchase from an indie close to you.
or
Pre-Order Now
Description
The Wrath and the Dawn meets Snow White and the Huntsman in this dark and mystical East Asian fantasy reimagining of The Evil Queen legend about one peasant girl's quest to become Empress.
"A richly developed fantasy world . . . Julie C. Dao is a talent to watch."--Marie Lu, #1 New York Times bestselling author of The Young Elites
Eighteen-year-old Xifeng is beautiful. The stars say she is destined for greatness, that she is meant to be Empress of Feng Lu. But only if she embraces the darkness within her.
Growing up as a peasant in a forgotten village on the edge of the map, Xifeng longs to fulfill the destiny promised to her by her cruel aunt, the witch Guma, who has read the cards and seen glimmers of Xifeng's majestic future. But is the price of the throne too high? Because in order to achieve greatness, she must spurn the young man who loves her and exploit the callous magic that runs through her veins--sorcery fueled by eating the hearts of the recently killed. For the god who has sent her on this journey will not be satisfied until his power is absolute.
Set in an East Asian-inspired fantasy world filled with both breathtaking pain and beauty, Forest of a Thousand Lanterns possesses all the hallmarks of masterful fantasy: dazzling magic, heartbreaking romance, and a world that hangs in the balance. Fans of Heartless, Stealing Snow, and Red Queen will devour this stunning debut.
Praise for Forest of a Thousand Lanterns
"A richly developed fantasy world coupled with an ambitious anti-heroine of complex agency, this story shines and surprises at every turn. Julie C. Dao is a talent to watch."--Marie Lu, #1 New York Times bestselling author of The Young Elites
"A stunning reimagining of the Evil Queen. Filled with treacherous courtesans, dark magic, terrible choices, and bloody hearts, Julie Dao's exquisite take on this classic villain rises far above the average retelling."--Stephanie Garber, New York Times bestselling author of Caraval

"Dark, lush, and intense, Forest of a Thousand Lanterns draws you into a world filled with mystery and intrigue, led by a heroine determined to grasp her destiny. A stunning debut "--Cindy Pon, author of WANT and Serpentine
About the Author
Julie C. Dao (www.juliedao.com) is a proud Vietnamese-American who was born in upstate New York. She studied medicine in college, but came to realize blood and needles were her Kryptonite. By day, she worked in science news and research; by night, she wrote books about heroines unafraid to fight for their dreams, which inspired her to follow her passion of becoming a published author. Forest of a Thousand Lanterns is her debut novel. Julie lives in New England. Follow her on Twitter @jules_writes.