A Grain of Sand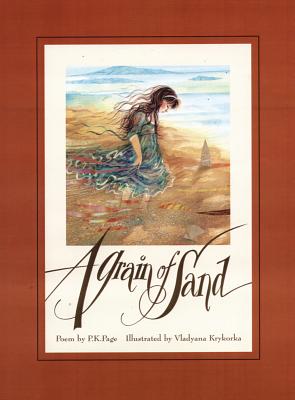 A Grain of Sand
Fitzhenry & Whiteside, Hardcover, 9781550418019, 28pp.
Publication Date: March 2003
* Individual store prices may vary.
Shop Local
Enter your zip code below to find indies closest to you.
Description
With the words of England's great romantic poet as their stepping stone, award-winning poet P.K. Page and celebrated artist Vladyana Krykorka enter the magical, mystical world of a child's imagination in a book that will live in the reader's memory long after the final page has been turned.
Handsomely bound and designed for gift giving, A Grain of Sand
was originally written for an oratorio by the renowned choral master and composer Dr.
Derek Holman and first performed in Toronto during that city's celebration of the new
millennium.
Vladyana Krykorka's brilliant watercolours join the poet's words in
perfect harmony, as
... a child on a beach on a summer's day
With time to idle the hours away
In the tiniest grain of sand can see
A limitless world of mystery

About the Author
P. K. Page wrote some of the best poems published in Canada over the last five decades. In addition to winning the Governor General's Award for poetry in 1957, she was appointed a Companion of the Order of Canada in 1999. She was the author of more than a dozen books, including ten volumes of poetry, a novel, short stories, eight books for children, and a memoir, entitled "Brazilian Journal", based on her extended stay in Brazil with her husband Arthur Irwin, who served as the Canadian Ambassador there from 1957 to 1959. A two-volume edition of Page's collected poems, "The Hidden Room" (Porcupine's Quill), was published in 1997.
In addition to writing, Page painted, under the name P. K. Irwin. She mounted one-woman shows in Mexico and Canada. Her work was also exhibited in various group shows, and is represented in the permanent collections of the National Gallery of Canada, the Art Gallery of Ontario, and the Victoria Art Gallery, among others.
P. K. Page was
David McPhail is the author and illustrator of more than fifty children's books, including two previous picture books featuring Edward ? Santa's Book of Names and Edward and the Pirates. David McPhail lives in Portsmouth, New Hampshire.
Krykorka is the illustrator of more than 20 picture books for children.