The Man with the Violin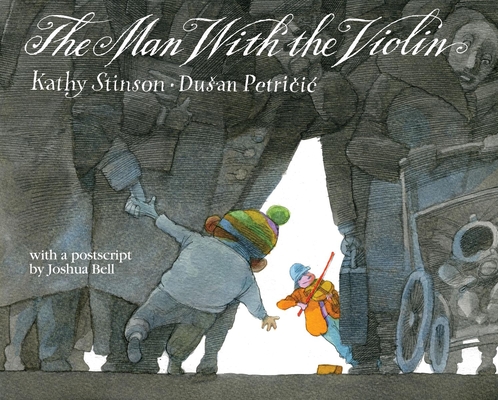 The Man with the Violin
Annick Press, Hardcover, 9781554515653, 32pp.
Publication Date: August 2013
* Individual store prices may vary.
Buy Now
or
Shop Local
Enter your zip code below to purchase from an indie close to you.
Description
This gorgeous picture book is based on the true story of Joshua Bell, the renowned American violinist who famously took his instrument down into the Washington D.C. subway for a free concert. More than a thousand commuters rushed by him, but only seven stopped to listen for more than a minute. In "The Man With the Violin," bestselling author Kathy Stinson has woven a heart-warming story that reminds us all to stop and appreciate the beauty that surrounds us.
Dylan is someone who notices things. His mom is someone who doesn't. So try as he might, Dylan can't get his mom to listen to the man playing the violin in the subway station. But Dylan is swept away by the soaring and swooping notes that fill the air as crowds of oblivious people rush by. With the beautiful music in his head all day long, Dylan can't forget the violinist, and finally succeeds in making his mother stop and listen, too.
Vividly imagined text combined with illustrations that pulse with energy and movement expertly demonstrate the transformative power of music. With an afterword explaining Joshua Bell's story, and a postscript by Joshua Bell himself.
About the Author
KATHY STINSON is one of Canada's foremost authors for young people. Over the past 25 years, she has published acclaimed books in virtually every genre, including Canadian classics such as "Red is Best", "Big or Little", "The Bare Naked Book", and the Pebble Creek series, as well as more recent hits, including the Marie-Claire volumes in the best-selling Our Canadian Girl historical fiction series and the provocative young adult novel "Becoming Ruby", which was nominated for a White Pine Award. Kathy lives in Rockwood, ON, with her partner, children's book editor and writing teacher, Peter Carver.

Dusan Petricic is an award-winning children's book designer and illustrator whose books include The Enormous Potato and Earthlings Inside and Out. He lives in Toronto, Ontario.