Tumbleweed Skies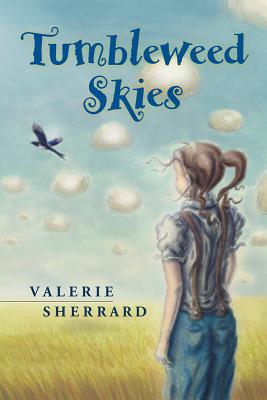 Tumbleweed Skies
Fitzhenry & Whiteside, Paperback, 9781554551132, 153pp.
Publication Date: October 16, 2009
* Individual store prices may vary.
Buy Now
or
Shop Local
Enter your zip code below to purchase from an indie close to you.
Description
"Booklist Editors' Choice 2010 award winner's list
Ann Connor Brimer Award for Children's Literature Nominee, 2010
The moment Ellie and her father pull up in front of Grandmother Acklebee's farm in Weybolt, Saskatchewan, Ellie knows she isn't wanted. But Ellie's father has just taken a job as a traveling salesman, and he has no other choice. The road is no place for a nine-year-old.
Ellie doesn't know her grandmother, but she learns quickly that the older woman blames her son-in-law and granddaughter for her daughter's death. And although her Uncle Roger is a kind man, Ellie is quickly cowed by the angry old woman, who shows her little kindness and no affection. Determined to survive the situation with her dignity intact, Ellie isn't about to show her grandmother that she can be hurt.
But how long can Ellie pretend that she doesn't care? And is there no way to melt her grandmother's heart? Set on the Canadian prairies of the mid-fifties, " Tumbleweed Skies" is a moving story of isolation, loneliness, and one family's journey
to heal itself.

About the Author
Valerie Sherrard is the author of 12 previous novels for young people, including the Shelby Belgarden Mysteries, Watcher, Sarah's Legacy, Speechless, and her first historical novel, Three Million Acres of Flame. Her work has been shortlisted for numerous Canadian awards, including the Red Maple, White Pine, and Arthur Ellis Awards. She lives in Miramichi, New Brunswick.
Praise For Tumbleweed Skies…
This is a moving and subtle novel about a 10-year-old motherless child, Ellie, who lives in an accurately rendered rural Saskatchewan of 1954. In this hardscrabble world Ellie strives to please her embittered grandmother. Grandma disowned her only daughter, Maggie, when she eloped in 1944 with the man who became Ellie's father. For 10 years after his wife's death in childbirth, Ellie's dad was a single parent. Now, laid off from his job in a mill, he starts travelling for a cookware company and needs a place for Ellie to stay while he is on the road. As is typical in a society less child-focused than ours, Ellie minds her manners and does her best to get along. She is diplomatic, unassertive and obedient. From her Uncle Roger, a farmer disfigured in a barn fire, Ellie learns more about her mother. Tumbleweed sky was her mother's phrase for cloud clusters before rain. The clouds, she said, were like people who have forgotten how to love. With stoicism and resolve, Ellie tackles her grandmother's housework assignments, rehabilitates an injured magpie, rescues a duplicitous neighbour and gradually melts Grandma's heart around the edges. This gentle, insightful book does not have a Hollywood ending. Rather, it is realistic and open-ended. Tumbleweed Skies is one of the best orphan child novels since Anne of Green Gables.   Professionally Speaking   Ruth Latta, OCT, is an author and educator who teaches writing courses in Ottawa.