Once Upon a Northern Night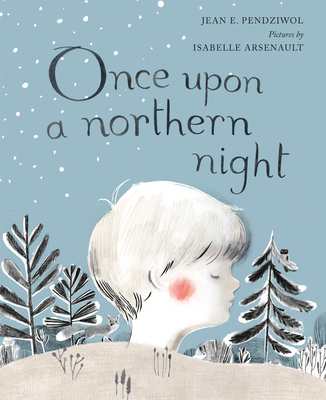 Once Upon a Northern Night
Groundwood Books, Hardcover, 9781554981380, 32pp.
Publication Date: July 2013
* Individual store prices may vary.
Shop Local
Enter your zip code below to find indies closest to you.
Description
In this exquisite lullaby, a parent paints a picture of a northern winter night for their sleeping child, describing the beauty of a snowfall, the wild animals that appear in the garden, the twinkling stars, the gentle rhythm of the northern lights and the etchings of frost on the window pane.
As the young child sleeps, wrapped in a downy blanket, a snowflake falls, and then another and another. The parent describes the forest of snow-covered pines, seeing a deer and fawn nibbling a frozen apple, a great gray owl swooping down with its feathers trailing through the snow. Two snowshoe hare scamper and play under the watchful eyes of a little fox, and a tiny mouse scurries in search of a midnight feast. When the snow clouds disappear, stars light up the sky, followed by the magical shimmering of the northern lights all framed by the frost on the window.
Jean E. Pendziwol's lyrical poem reflects a deep appreciation of a northern winter night, a desire to share it with her sleeping child and the love that underlies that wish.
Isabelle Arsenault's spare, beautifully rendered illustrations, with their subtle but striking use of color, make us feel that we too are experiencing the enchantment of that northern night.

About the Author
Jean E. Pendziwol is the author of No Dragons for Tea: Fire Safety for Kids (and Dragons), which has been recognized by the National Fire Prevention Association as a recommended resource for teaching fire safety. She lives with her family in Thunder Bay, Ontario, where she divides her time between family, writing and pursuing elusive dragons.

Isabelle Arsenault has illustrated several children's books, including Spork, My Letter to the World and Other Poems and Mr. Gaugin's Heart. She has received many awards for her work, including the Governor General's Award for Illustration. She lives in Montreal, Quebec.