Peyton Place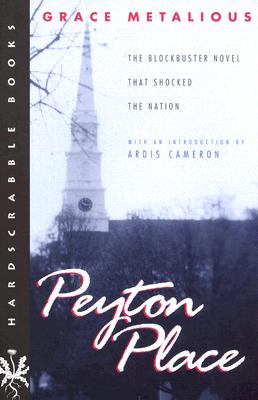 Peyton Place
Northeastern University Press, Paperback, 9781555534004, 384pp.
Publication Date: March 4, 1999
* Individual store prices may vary.
Buy at Local Store
Enter your zip code below to purchase from an indie close to you.
or
Buy Here
Description
When Grace Metalious's debut novel about the dark underside of a small, respectable New England town was published in 1956, it quickly soared to the top of the bestseller lists. A landmark in twentieth-century American popular culture, Peyton Place spawned a successful feature film and a long-running television series the first prime-time soap opera.
Contemporary readers of Peyton Place will be captivated by its vivid characters, earthy prose, and shocking incidents. Through her riveting, uninhibited narrative, Metalious skillfully exposes the intricate social anatomy of a small community, examining the lives of its people their passions and vices, their ambitions and defeats, their passivity or violence, their secret hopes and kindnesses, their cohesiveness and rigidity, their struggles, and often their courage.
This new paperback edition of Peyton Place features an insightful introduction by Ardis Cameron that thoroughly examines the novel's treatment of class, gender, race, ethnicity, and power, and considers the book's influential place in American and New England literary history.
About the Author
Grace Metalious was an American author who is best known for her scandalous yet highly successful novel, Peyton Place, which shocked Eisenhower-era America with its depiction of the sexual, class, and ethnic tensions roiling beneath the peaceful surface of a small New England mill town.
Financially secure for the first time in her life, Metalious embraced a lavish lifestyle and continued to write, producing three more novels including Return to Peyton Place, The Tight White Collar, and No Adam in Eden. After years of heavy drinking, a troubled Metalious succumbed to cirrhosis of the liver in 1964.
Ardis Cameron is Professor of American and New England Studies at the University of Southern Maine. She is the author of Radicals of the Worst Sort: The Laboring Women of Lawrence, Massachusetts, 1880 1912 and the editor of Looking For America: The Visual Making of People and Nation. She also provided the introductions to the reprint editions of Peyton Place and Return to Peyton Place.
Monday, Aug 10, 2009
Author Laura Dave remembers the book that taught her about unabashed sin: Peyton Place, a raucous novel of sex, murder and love in a small New England town. More at NPR.org