Cruisin' the Fossil Freeway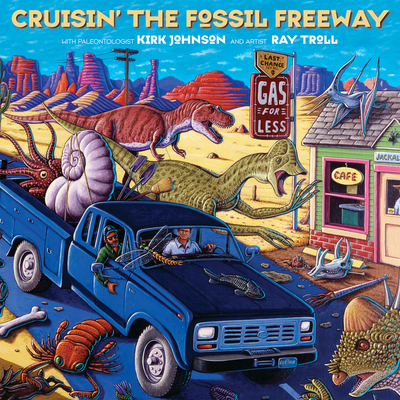 Cruisin' the Fossil Freeway
An Epoch Tale of a Scientist and an Artist on the Ultimate 5,000-Mile Paleo Road Trip
Fulcrum Group, Paperback, 9781555914516, 204pp.
Publication Date: October 1, 2007
* Individual store prices may vary.
Buy at Local Store
Enter your zip code below to purchase from an indie close to you.
or
Buy Here
Description
The travels of a paleontologist and an artist as they drive across the American West in search of fossils. Throughout their journey, they encounter "paleonerds" like themselves, people dedicated to finding everything from suburban T. rexes to ancient fossilized forests.
About the Author
Kirk R. Johnson is vice president and chief curator at the Denver Museum of Nature and Science. He received his PhD in geology and paleobotany from Yale University in 1989, and did postdoctoral research in the rainforests of northern Australia before coming to Denver in 1991, where he directed the installation of the museum's Prehistoric Journey exhibit.

Ray Troll's art has been featured on the Discovery Channel, in dozens of magazines and newspapers, and in galleries and museums such as the Denver Museum of Nature and Science and the California Academy of Sciences. He has created and illustrated several best-selling books, including "Sharkabet: A Sea of Sharks from A to Z "(2002); "Life's a Fish and Then You Fry, "a cookbook by Randy Bayliss (2002); and, with Brad Matsen, "Raptors, Fossils, Fins and Fangs "(1995); "Planet Ocean: A Story of Life, the Sea, and Dancing to the Fossil Record "(1994); and "Ray Troll's Shocking Fish Tales "(1993). His next book, "Cruisin the Fossil Freeway, "with text by paleontologist Kirk Johnson, will be published in 2005. He lives in Ketchikan, Alaska. Brad Matsen is an author, documentary screenwriter, and photographer whose books include "Incredible Deep-Sea Adventures "(2003); "The Shape of Life" (2002); "Fishing Up North: Stories of Luck and Loss in Alaskan Waters "(1998); and his three previous collaborations with Ray Troll. He lives in Seattle and New York.