Army Cats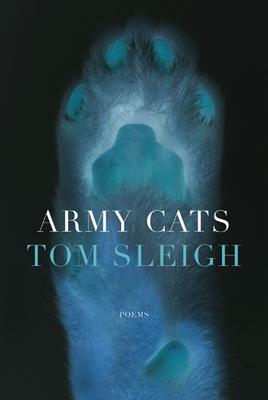 Army Cats
Poems
Graywolf Press, Paperback, 9781555975838, 96pp.
Publication Date: May 10, 2011
* Individual store prices may vary.
Buy at Local Store
Enter your zip code below to purchase from an indie close to you.
or
Not Currently Available for Direct Purchase
Description
"Over by the cemetery next to the CP "
"you could see them in wild catmint going crazy: "
"I watched them roll and wriggle, paw it, lick it, "
"chew it, leap about, pink tongues stuck out, drooling. "
" " from "Army Cats"
Tom Sleigh's poetry swerves dramatically from the ordinary moment to the onrush of emergency or to the elusive past or to the unexpectedly comic. In "Army Cats," Sleigh confronts the more feral aspects of war, journalism, art, and selfhood. Many of these poems are seen as if through the haze after the detonation of a roadside bomb, or while the smoke hasn't yet cleared from history in the making. One poem describes the fallout after a wedding is interrupted by an explosive; still another attempts to re-create the execution of Saddam Hussein as distorted by a cell-phone video recording found on YouTube. This is brilliant new work by one of America's finest and most relevant poets.
About the Author
TOM SLEIGH is the author of seven collections of poetry. He has received grants from the Guggenheim Foundation, the Lila Wallace Fund, and the National Endowment for the Arts, and numerous awards, including the Poetry Society of America's Shelley Award and an Academy Award from the American Academy of Arts and Letters. He currently teaches in the creative writing program at Hunter College in New York and resides in Brooklyn.
Praise For Army Cats…
Praise for Army Cats: "[Sleigh's] command of technique is impeccable. . . . Sleigh has been publishing formidable poetry for almost thirty years, and among American poets of his generation there is no one better. . . . Army Cats is nothing less than a triumph." —David Wojahn, Tikkun "As he moves with masterly control from section to section, style to style, yet pulling along a constant narrative thread, Sleigh shows just how accomplished he is." —Library Journal "The best work in Sleigh's eighth collection continues his effort to use the fruits of civilization to confront the violence and destruction of our time. . . . [his] poems of war provide a shocking clarity." —Publishers Weekly

"Sleigh's energy, precision, and unflagging desire to find connection often color the poems. . . . The exactitude with which Sleigh is able to convey specific images and emotions imbues the work in Army Cats with a sense of clarity amid chaos, which in itself is a survival act." —American Poet  "At many turns, Sleigh undermines or interrogates the lyricism that propels these poems until the truths that he arrives at feel solid and real. His voice is trustworthy and at the same time unexpected--a perfect combination of effects that often left me, for one, happily quizzical and eager to reread. . . . Army Cats is a dynamic book in which Sleigh sets down his own wrestling with identity, and we are captivated by the multiplicity of selves that emerges." —Kenyon Review
Praise for Tom Sleigh:

"Tom Sleigh's poetry is hard-earned and well founded. I greatly admire the way it refuses to cut emotional corners and yet achieves a sense of lyric absolution." —Seamus Heaney

"Sleigh is nearly as prodigal with his gifts as Yeats." —The New York Times Book Review
"All those things we'd rather not hear about—war, disease, physical and moral corruption, the nightmare of family, the beauty and heartbreak of love—we hear about in the poems, plays, and essays of Tom Sleigh. The wonder of his work is that no matter the subject, the writing is singular, finished, and—even when unbearable—impossible to ignore. In the midst of the mess we have made of the world, his voice is calm, measured, intelligent, and at times even playful; he is becoming our Jonathan Swift." —J. D. McClatchy, judge's statement for the John Updike Award in Literature from the American Academy of Arts and Letters