The Life of an Unknown Man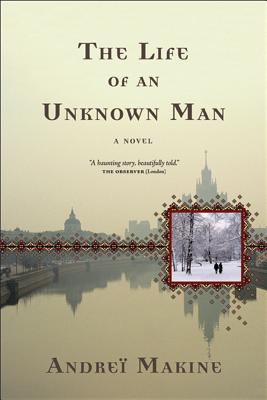 The Life of an Unknown Man
Graywolf Press, Paperback, 9781555976149, 194pp.
Publication Date: June 5, 2012
* Individual store prices may vary.
Buy Now
or
Shop Local
Enter your zip code below to purchase from an indie close to you.
Description
A deeply moving meditation on memory, history, love, and art by the author of "Dreams of My Russian Summers"
In "The Life of an Unknown Man," Andrei Makine explores what truly matters in life through the prism of Russia's past and present.
Shutov, a disenchanted writer, revisits St. Petersburg after twenty years of exile in Paris, hoping to recapture his youth. Instead, he meets Volsky, an old man who tells him his extraordinary story: of surviving the siege of Leningrad, the march on Berlin, and Stalin's purges, and of a transcendent love affair. Volsky's life is an inspiration to Shutov -- because for all that he suffered, he knew great happiness. This depth of feeling stands in sharp contrast to the empty lives Shutov encounters in the new Russia, and to his own life, that of just another unknown man . . .
About the Author
Makine was born in Siberia, and was granted political asylum in Paris, France in 1987.

Geoffrey Strachan is an award-winning translator.
Praise For The Life of an Unknown Man…
"It is impossible to exaggerate the power of this short, unbearably poignant novel. It is both brutal and lyrical. Makine consciously invokes Chekhov but his grasp of history is positively Tolstoy-like in scale. I can't think of a writer who would be a more deserving recipient of the Nobel literature prize." --Mail on Sunday "Makine's laconic, sardonic portrait of the new Russia is laced with fury . . . a bold and eloquent novel." --The Guardian "Like all his work, this novel has a wonderful flavor of a contemporary Chekhov with a splash of Proust. . . . What starts out an intimate account bursts out into something more ambitious and universal. Ultimately it's a haunting story, beautifully told." --The Observer "Seamlessly translated by Geoffrey Strachan, Makine's novel explores the attempt of two 'ordinary' people to transcend suffering and find life's essential meaning. It is difficult to write without sentimentality about such a subject, but Makine's intelligence and truthfulness dismiss banality." --Pamela Norris, Literary Review "Told with an intimacy made potent by Makine's lyrical, spare prose and Strachan's lucid translation. . . reconnects both the reader and the protagonist with Russia's blood soaked history, to startling effect." --The Financial Times "Thrilling . . . Makine's most beautiful novel since [Dreams of My Russian Summers]." --Le Figaro