Waking the Tiger Healing Trauma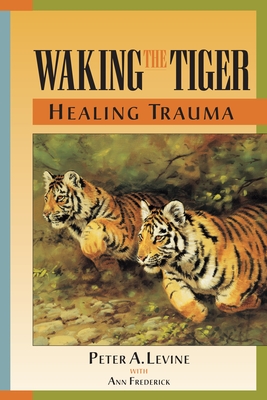 Waking the Tiger Healing Trauma
North Atlantic Books, Paperback, 9781556432330, 288pp.
Publication Date: July 7, 1997
* Individual store prices may vary.
Buy at Local Store
Enter your zip code below to purchase from an indie close to you.
or
Buy Here
Description
Nature's Lessons in Healing Trauma...
"Waking the Tiger" offers a new and hopeful vision of trauma. It views the human animal as a unique being, endowed with an instinctual capacity. It asks and answers an intriguing question: why are animals in the wild, though threatened routinely, rarely traumatized? By understanding the dynamics that make wild animals virtually immune to traumatic symptoms, the mystery of human trauma is revealed.
"Waking the Tiger" normalizes the symptoms of trauma and the steps needed to heal them. People are often traumatized by seemingly ordinary experiences. The reader is taken on a guided tour of the subtle, yet powerful impulses that govern our responses to overwhelming life events. To do this, it employs a series of exercises that help us focus on bodily sensations. Through heightened awareness of these sensations trauma can be healed.
About the Author
PETER LEVINE earned his M.F.A. from The Writing Seminars at The Johns Hopkins University. He is the author of "The Appearance of a Hero". His work has appeared in "The New York Times, The Southern Review, The Missouri Review, StoryQuarterly, "and elsewhere. He has held residencies at Yaddo and the Virginia Center for the Creative Arts. He lives in Washington, D.C.

Ann Frederick is the director of flexibility training for the Stretch to Win Clinic, where she has worked with many elite athletes, including Philadelphia Eagles star quarterback Donovan McNabb and numerous Olympians and members of the NFL, MLB, and NHL. Ann was the first flexibility specialist ever to work at the Olympics, consulting with the 1996 U.S. wrestling team and both the 2000 and 2004 U.S. track teams. For more than 35 years, Ann has studied, performed, and taught movement through multiple dance disciplines. In 1997, upon completion of her studies, Frederick defended her master's thesis and established that her stretching technique outperformed conventional methods with lasting flexibility gains of 36 to 52 percent. She continually refined and improved these techniques, which ultimately developed into the Stretch to Win system of flexibility training and stretching.

Coming soon...
Praise For Waking the Tiger Healing Trauma…
"Every life contains difficulties we are not prepared for. Read, learn, and be prepared for life and healing."
—Bernard S. Siegal, M.D., Author of Love, Medicine & Miracles and Peace, Love, and Healing

"Fascinating! Amazing! A revolutionary exploration of the effects and causes of trauma."
—Mira Rothenberg, Director Emeritus of Blueberry Treatment Centers for Disturbed Children, Author of Children With Emerald Eyes

"It is a most important book. Quite possibly a work of genius."
—Ron Kurtz, Author of Body Reveals and Body-Centered Psychotherapy

"Levine effectively argues that the body is healer and that psychological scars of trauma are reversible—but only if we listen to the voices of our body." 
—Stephen W. Porges, Ph.D., Professor of Human Development and Psychology, University of Maryland
 
"A vital contribution to the exciting emerging science of mind/body interaction in the treatment of disease."
—Robert C. Scaer, M.D., Neurology, Medical Director, Rehabilitation Services, Boulder Community Hospital

"Peter Levine's work is visionary common sense, pure and simple."
—Laura Huxley, lifetime partner and collaborator of Aldous Huxley
 
"[Waking the Tiger] is an excellent resource for those who have been traumatized or know someone who suffers from trauma, like a soldier returning from war. Finally, there is help that doesn't ask us to relive what happened and re-experience the pain. Instead, it follows the body's wisdom in its search for renewal and healing."
—Soaring Again