Embryos, Galaxies, and Sentient Beings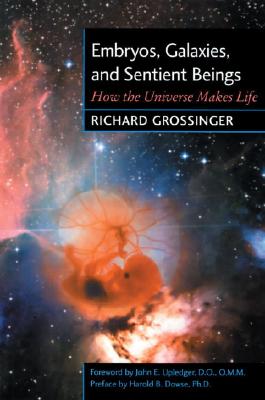 Embryos, Galaxies, and Sentient Beings
How the Universe Makes Life
North Atlantic Books, Paperback, 9781556434198, 505pp.
Publication Date: August 29, 2003
* Individual store prices may vary.
Buy at Local Store
Enter your zip code below to purchase from an indie close to you.
or
Buy Here
Description
Why is the universe conscious? What kindles mind inside matter? Why do fundamentalist sciences and religions never ask these questions? This sequel to Embryogenesis deals with the theoretical issues brought up by Embryogenesis, including: the relationship between thermodynamics/entropy and the emergence of life; a speculative set of embryogenic principles for all creatures on all planets in the cosmos; an explanation and critique of Intelligent Design and a proposal for a more dynamic psychospiritual theory of creature development; a series of alternatives to genetic determinism; a discussion of the relationship between consciousness and matter; an interjection of 9/11 (which occurred during the writing of this book); and many other topics. Chapters include: What is Life?: Evolution, Thermodynamics, and Complexity; Is There a Plan?: Creationism, Cultural Relativism, and Paraphysics; Biogenesis and Cosmogenesis: Cells, Genes, and Planets; The Principles of Biological Design: Physical Forces in Nature; The Dynamics of the Biosphere: Deep Time and Space; The Limits of Genetic Determinism: Dimensionless Epigenetic Landscapes; Topokinesis: Physical Forces in Development; Tissue Motifs and Body Plans: Coordinating Form; The Primordial Field: Metabiology and The Molecular Apparatus; Meaning and Destiny: The Relation of Consciousness to Matter
About the Author
Since the issuing of "Solar Journal: Oecological Sections" by Black Sparrow Press in 1970, Richard Grossinger has published some twenty-five books, most of them with his own press, North Atlantic Books/Frog, Ltd., but also titles with Harper, Doubleday, Sierra Club Books, J.P. Tarcher, among others. These have ranged from extremely long explorations of science, culture, and spirituality ("The Night Sky," "Planet Medicine," "Embryogenesis") to memoirs and nonfiction novels ("New Moon," "Out of Babylon") to experimental prose ("Book of the Earth and Sky," "Spaces Wild and Tame") and science fiction ("Mars: A Science Fiction Vision"). Grossinger received a PhD in anthropology from the University of Michigan in 1975 and lives with his wife Lindy Hough in Berkeley, California.

John E. Upledger, D.O., O.M.M., founded CranioSacral Therapy and the Upledger Institute, Inc., in Palm Beach Gardens, Florida. He was a member of the Alternative Medicine Program Advisory Council at the National Institutes of Health. He is the author of "Your Inner Physician and You" and several textbooks on CranioSacral Therapy and SomatoEmotional Release.


Praise For Embryos, Galaxies, and Sentient Beings…
"I am not a cabbalist nor do I have second sight, but I predict we will hear from Grossinger. This man is as large as Mann or Joyce."—John Montgomery, author of The Kerouac We Knew"A unique masterpiece! Richard Grossinger fathoms science with the core of the question that is rarely asked—what is the meaning of this concept, this fact?"—David Hurtwith, Amazon.com"This book is part of a secret project, secret even to its author. It represents a complex mode of consciousness on a subtle plane that has been working its way into the world for millennia. The author is carrying out one phase of it in a regular sense in linear time, but his inner self is doing the actual work in a timeless reverie. And this is the only way the project is going to get done. Otherwise, it would continually have to defend itself against an external voice that keeps saying, 'This is not happening; this is some bizarre aberration.' Grossinger is fighting both for and against something that won't go away. He can't drop it, and he can't complete it. It has no grand fruition, nothing to do with the New Age notion that everything is supposed to cross and become magnificent. Esoterically, it is its own reality, its own truth, its own justification."-Ellias Lonsdale, author of Inside Star Vision