Beyond the Trauma Vortex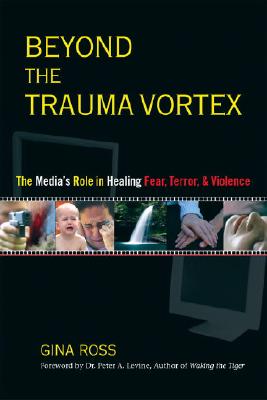 Beyond the Trauma Vortex
The Media's Role in Healing Fear, Terror, and Violence
North Atlantic Books, Paperback, 9781556434464, 210pp.
Publication Date: April 2003
* Individual store prices may vary.
Buy Now
or
Shop Local
Enter your zip code below to purchase from an indie close to you.
Description
In Beyond the Trauma Vortex, Gina Ross proposes a collaboration between the media, trauma researchers, and helping officials in order to break the vicious cycle of trauma and violence. The media, Ross suggests, can use their tremendous influence to promote peace rather than violence and to heal wounded psyches, communities, and nations. Delving first into the destructive nature of the "trauma vortex" through a variety of individual and historical examples, Ross then offers her insight into an alternate, restorative "healing vortex." By focusing on the interrelatedness of personal and collective healing, the author makes a compelling case for why—and how—media professionals can play an influential role in effecting widespread healing for their viewers and for themselves.
About the Author


Peter A. Levine received his Ph.D. in medical and biological physics from the University of California at Berkeley, and holds a doctorate in psychology from International University. During his 35-year study of stress and trauma, he has contributed to scientific and medical publications and served as consultant for NASAs space shuttle program. He has taught at the Hopi Guidance Center and at hospitals and pain clinics throughout the world. Dr. Levine is currently a consultant for the Pain Rehabilitation Center in Boulder, Colorado. He is the coauthor, with Ann Frederick, of Waking the Tiger: Healing Trauma.

PETER LEVINE earned his M.F.A. from The Writing Seminars at The Johns Hopkins University. He is the author of "The Appearance of a Hero". His work has appeared in "The New York Times, The Southern Review, The Missouri Review, StoryQuarterly, "and elsewhere. He has held residencies at Yaddo and the Virginia Center for the Creative Arts. He lives in Washington, D.C.
Praise For Beyond the Trauma Vortex…
"The power of this book lies in its passionate appeal to news and entertainment media for their help in turning the horrors of history into healing and peace. Beyond the Trauma Vortex clarifies how reactions to trauma can influence reporting in ways that distort news coverage for readers and viewers, adding to their confusion and helplessness rather than informing and moving them to constructive action."
—Migael M. Scherer, Journalist, teacher, and author of Still Loved by the Sun: A Rape Survivor's Journal

"Gina Ross has produced a must-read that illuminates people's ability to constructively understand, recognize, and heal their own traumas, whether witnessed directly or secondhand. Beyond the Trauma Vortex alerts us to trauma's being a root cause of violence and advises us to look at political conflicts between groups and nations through the trauma lens. Making us aware of what she calls the 'trauma vortex' is her eye-opening prelude to the 'healing vortex,' our inner resources that allow us to move beyond events we might like to lay to rest but are unable to. I can attest that the "healing vortex" works. During a time of great peril and extreme stress in my life, I was able to draw on many of the healing resources Gina describes so accurately in this book. Consider this review an endorsement and a testimonial as well."
—Jerry Levin, Former CNN Middle East bureau chief.

"In our post-9/11 world, no one escapes emotional trauma; its effects are only a matter of degree. Beyond the Trauma Vortex is a sorely needed examination of the origins and nature of trauma, and how we can heal from it. This is a very wise book that deserves a wide readership – for the sake of our country and our world."
—Larry Dossey, M.D., Author of Healing Beyond the Body and Reinventing Medicine

"There's a really important message in this book. A great worldwide benefit will come as a result of our better understanding of the impact of trauma and the process of personal and collective healing and response that is possible. This well-researched work offers insight and tools for all those involved in transforming old problems into new solutions."
—Jack Kornfield, Author, meditation teacher, and co-founder of the Insight Meditation Society