Axial Stones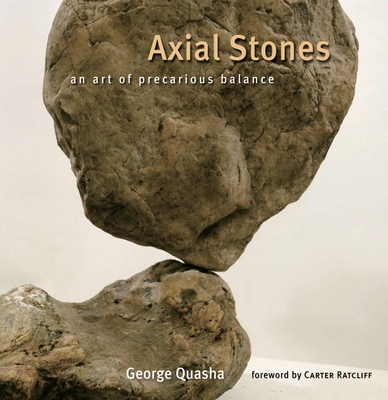 Axial Stones
An Art of Precarious Balance
North Atlantic Books, Paperback, 9781556435751, 159pp.
Publication Date: July 24, 2006
* Individual store prices may vary.
Buy Now
or
Shop Local
Enter your zip code below to purchase from an indie close to you.
Description
George Quasha's extraordinary sculptures unite natural stones in a state of breathtakingly improbable balance. The stones are not altered physically or bonded in any way; rather, Quasha discovers an unknown axis that brings them into radical alignment. The stones "learn" this state of levity in contrast to their ordinary state of gravity, resulting in a new art form that feels alive with its own individual energy and personality. Here, 37 axial stones are displayed in dazzling full-page color photos. The accompanying text explains not only how the stones were found and eventually came together, but explores the aesthetic, philosophical, spiritual, and practical implications of an art of danger and impermanence. "Action pages" document the process—the repeated setting up, balancing, losing balance, and falling—until the full axial stone is born: a whole being greater and more real than the sum of its parts.
About the Author
George Quasha's work as a poet, including Somapoetics (1973) and AINU DREAMS (1999) among others, has steadily broadened to explore principles in common within language, sculpture, drawing, video, sound, installation, and performance. Preverbs, of which VERBAL PARADISE is the first book, has been a core vehicle of this exploration. His recent Axial Stones: An Art of Percarious Balance, foreword by Carter Ratcliff (2006), focuses on sculpture, drawing, and language (as text and installation) shown at the Baumgartner Gallery (Chelsea), Slought Foundation (Philadelphia), the Samuel Dorsky Museum of Art (SUNY New Paltz), and elsewhere. His axial video works with language, sound, and portraiture, including art is: Speaking Portraits, recording over 800 artists, poets, and musicians in eleven countries (saying what art/music/poetry is) and exhibited internationally at museums, galleries, and universities. Awarded a Gugenheim Fellowship in video art and an NEA Fellowship in poetry, the latest of his twenty books is An Art of Limina: Gary Hill's Works and Writings (with Charles Stein; foreword by Lynne Cooke) (2009). Co-founder and -publisher with Susan Quasha of Station Hill Press of Barrytown, New York, he performs both solo and in collaboration with Gary Hill, Charles Stein, and David Arner.

Carter Ratcliff is a poet who writes about art. He first published his poetry in The World and other magazines in the orbit of the St. Mark's Poetry Project, in downtown Manhattan. In recent years poems of his have appeared in The Sienese Shredder, The Mississippi Review, Cimarron Review, Hudson River Art, Vanitas, Cover Magazine, among other journals; and in IN-FILTRATION: AN ANTHOLOGY OF INNOVATIVE POETRY FROM THE HUDSON VALLEY (Station Hill, 2015); The KGB Bar Book of Poems (Harper Perennial, 2000); and Poetry After 9/11: An Anthology of New York Poets (Melville House, 2001). His books include Fever Coast (Kulchur Press, 1973); Give Me Tomorrow (Vehicle Press, 1983); ARRIVEDERCI, MODERNISMO (Libellum Press, 2004); and TEQUILA MOCKINGBIRD (Station Hill Press, 2015). A Contributing Editor of Art in America, Ratcliff has published art criticism in leading journals in the United States and Europe, as well as catalogs published by the Museum of Modern Art; El Museo del Barrio; the Guggenheim Museum; the Royal Academy, London; the Stedelijk Museum, Amsterdam; and other institutions. Among his books on art are The Fate of a Gesture: Jackson Pollock and Postwar American Art (Farrar, Straus and Giroux, 1996); Out of the Box: The Reinvention of Art 1965-1975 (Allworth Press, 2000); and Andy Warhol: Portraits (Phaidon Press, 2006). Since 2003, Ratcliff has lived with his wife, Phyllis Derfner, in the Hudson River Valley.
Praise For Axial Stones…
"At first glance, one doesn't quite see what one is looking at. Quasha, it seems, has found a batch of wildly eccentric rocks. Then one realizes what is going on: in each case, two rocks have been joined at precisely the point that turns them into a unity. These are configurations so delicately balanced that the slightest touch would topple them…The results are astonishing…For Quasha, an axis is like an intention: a force that, as it generates possibilities, gives them a contingent but intelligible order. Every esthetic advances a hope, for truth or clarity or beauty or whatever. Quasha's esthetic is driven by the hope that possibility will always be open and fresh, never predictable."
—Carter Ratcliff, Art in America

"So jaded am I by today's art, full of strategic moves and empty technological gesture, that George Quasha's Axial Stones become nothing less than a wake up call. These balancing acts contain high wire energy and at the same time absorb gravities from all directions sending out primordial messages that one is always longing to hear (whether one knows it or not). As pleasurable as these "coupling" rocks are to look at, the core experience is that of the mind weighing various details of its own cosmology one upon the other...in just so many ways."
—Gary Hill, artist

"George Quasha is an artist who manifests the mystery of a stone's interior nature without ever penetrating its surface. He discerns the internal distribution of dense masses and delicate striations by discovering the axis that allows one stone to balance upon another. These matings are unforeseen because they are unforeseeable. Indeed, seeing is not the primary sense that guides his process. Instead of imposing his aesthetic will, Quasha submits to the dictates of stones which communicate to him through a language of tactile discourse."
—Linda Weintraub, author of Art at the Edge and Over and In the Making