The Disobedience of the Daughter of the Sun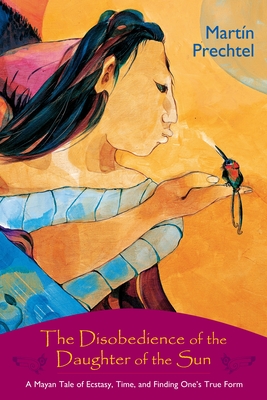 The Disobedience of the Daughter of the Sun
A Mayan Tale of Ecstasy, Time, and Finding One's True Form
North Atlantic Books, Paperback, 9781556436000, 164pp.
Publication Date: August 1, 2005
* Individual store prices may vary.
Buy at Local Store
Enter your zip code below to purchase from an indie close to you.
or
Buy Here
Description
Author and illustrator Martin Prechtel is internationally known for his explorations of ancient folklore and uncovering the lessons therein for modern readers. In "The Disobedience of the Daughter of the Sun," he revives a hitherto unknown Guatemalan Tzutujil Mayan tale of the beginnings of the world with a poetic retelling of the story, 28 evocative drawings, and a critical analysis that both enlightens and entertains. Having lived with the Mayans and learned their language, Prechtel authoritatively retells the powerful tale of the Tall Girl who weaves the world in a loom, her parents the Sun and the Moon who repudiate her suitors, and the mysterious man who disguises himself as a hummingbird to lure her away. Prechtel expands this archetypal story with five layers of commentary, each teasing out a different wisdom and revealing its relevance to the world today.
About the Author
ROBERT S. CARLSEN recently retired from the Department of Anthropology at the University of Colorado, where he taught for twenty years, and is now an independent researcher. He conducted twenty-five years of field research in Atitlan, where he learned Tz'utujil, was accepted in a local cofradia (Mayan/Catholic religious society), and was a firsthand witness to la violencia.
Praise For The Disobedience of the Daughter of the Sun…
"Magical yet profoundly political, The Disobedience of the Daughter of the Sun returns us to our indigenous beginnings, re-connecting us to our original human form. In these genetically engineered times, nothing could be more revolutionary."-Michael Brownstein, author of World on Fire