On the Integration of Nature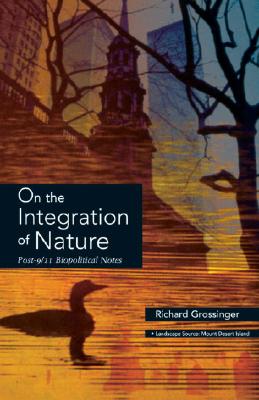 On the Integration of Nature
Post 9/11 Biopolitical Notes
North Atlantic Books, Paperback, 9781556436031, 330pp.
Publication Date: November 1, 2005
* Individual store prices may vary.
Buy at Local Store
Enter your zip code below to purchase from an indie close to you.
or
Not Currently Available for Direct Purchase
Description
This collage-like book is an inquiry into the nature of life and of existence itself. Simultaneously philosophical, spiritual, and literary, it pushes the boundaries of this area of thought beyond the strictures of science, religion, and all other forms of ideology. Author Richard Grossinger dazzlingly blends narrative memoir, short science fiction "novels" (the shortest being a mere paragraph), political think pieces, Buddhist screeds, public dialogue via found art, and even dreams to create a bold view of the world and humankind's precarious place in it.
About the Author
Richard Grossinger was born in New York City in 1944. He received a B.A. from Amherst College in 1966 ad a Ph.D. in anthropology from the University of Michigan in 1975. He is the author of many books, including "The Night Sky," "Embryogenesis," and "Homeopathy: An Introduction for Skeptics and Beginners." He lives with his wife Lindy Hough in Berkeley, California.
Praise For On the Integration of Nature…
"With pathos, humor, and keen mystical insight, Richard Grossinger has composted a powerful incantation to dispel the disenchangment of the world and redeem the numinous geography of the Earth of visions."
—Pir Zia Inayat-Khan, Leader of the Sufi Order International

"Richard Grossinger's life-long inquiry into physical reality has plunged the lineage of his predecessors, most notably Charles Olson and Robert Duncan, into the deepest space of ethical practice and poetic perception. Now, with On the Integration of Nature: Post-9/11 Biopolitical Notes, Grossinger has crafted an energetic pushback ot the Jihadis of religion and science who are attacking the heart of creation form which he is so profoundly inspired."
—Kenneth Warren, Editor, House Organ

"In this time of transition and transformation, cultural anthropologist Richard Grossinger addresses what it is to be human and in the world now, adding yet another profound work to the more than twenty books he has already written. … Grossinger has conducted a life-long study into the nature of physical reality. The fruits of his inquiry he once again makes available in this newest treatise, in which, with lyrical erudition, he shares his thoughts on many timely subjects including politics and religion."
—New Paradigm Digest