Trauma Through a Child's Eyes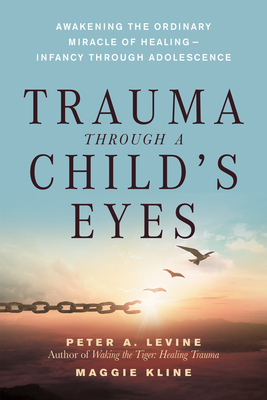 Trauma Through a Child's Eyes
Awakening the Ordinary Miracle of Healing; Infancy Through Adolescence
North Atlantic Books, Paperback, 9781556436307, 509pp.
Publication Date: January 2007
* Individual store prices may vary.
Buy Now
or
Shop Local
Enter your zip code below to purchase from an indie close to you.
Description
An essential guide for recognizing, preventing, and healing childhood trauma, from infancy through adolescence--what parents, educators, and health professionals can do.
Trauma can result not only from catastrophic events such as abuse, violence, or loss of loved ones, but from natural disasters and everyday incidents such as auto accidents, medical procedures, divorce, or even falling off a bicycle. At the core of this book is the understanding of how trauma is imprinted on the body, brain, and spirit, resulting in anxiety, nightmares, depression, physical illnesses, addictions, hyperactivity, and aggression. Rich with case studies and hands-on activities, "Trauma Through A Child's Eyes" gives insight into children's innate ability to rebound with the appropriate support, and provides their caregivers with tools to overcome and prevent trauma.
About the Author
Peter A. Levine received his Ph.D. in medical and biological physics from the University of California at Berkeley, and holds a doctorate in psychology from International University. During his 35-year study of stress and trauma, he has contributed to scientific and medical publications and served as consultant for NASAs space shuttle program. He has taught at the Hopi Guidance Center and at hospitals and pain clinics throughout the world. Dr. Levine is currently a consultant for the Pain Rehabilitation Center in Boulder, Colorado. He is the coauthor, with Ann Frederick, of Waking the Tiger: Healing Trauma.


Praise For Trauma Through a Child's Eyes…
"Trauma Through A Child's Eyes is an extraordinary body of work. Healing ourselves and our children of the effects of trauma is of the utmost importance. The more aligned we are inside ourselves and with our outer world, the more we will be able to create peace." —Debbie Robins, bestselling author of Where Peace Lives

"Some books are said, in their originality, to 'break the mold.' Trauma Through A Child's Eyes goes one further: it creates its own mold in a way that everyone concerned with the health and happiness of children will be grateful for." —Gabor Maté, MD, author of Hold On to Your Kids: Why Parents Need to Matter More Than Peers

"A truly remarkable book that captures the essence of what it is to be a traumatized child, while simultaneously helping us understand, appreciate, and facilitate their natural capacity to heal. Written with a deep sense of compassion and wisdom, this book offers clear insight to those who care for and about children." —John Stewart, PhD, author of Beyond Time Out; clinical director, Maine Medical Center; consultant to public schools, Child Psychiatry Fellowship Faculty