Buddha Takes No Prisoners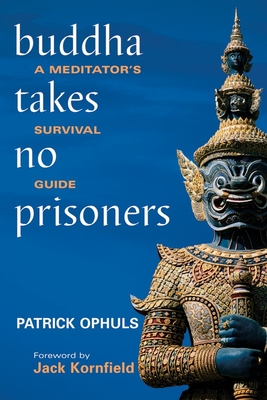 Buddha Takes No Prisoners
A Meditator's Survival Guide
North Atlantic Books, Paperback, 9781556436345, 177pp.
Publication Date: April 3, 2007
* Individual store prices may vary.
Buy Now
or
Shop Local
Enter your zip code below to purchase from an indie close to you.
Description
This insightful, easy-to-read handbook offers a non-traditional perspective on meditation. Written primarily for American insight meditation students, it delivers the Buddha's essential teachings clearly, straightforwardly, and without spiritual jargon, and helps make sense of practices often laden with traditional terminology. Practical explanations of the meditation process, its benefits and applicability to daily life, and warmly humorous advice and encouragement give new practitioners the help necessary to continue practicing meditation on a regular basis.
About the Author
William Ophuls is the author of the award-winning "Ecology and the Politics of Scarcity" and "Requiem for Modern Politics".

Jack Kornfield trained as a Buddhist monk in the monasteries of Thailand, India, and Burma, and he is one of the key teachers to have brought Buddhist mindfulness practice to the West. He is the cofounder of the Insight Meditation Society in Barre, Massachusetts, and of Spirit Rock Meditation Center in Woodacre, California. His books include A Path with Heart; Teachings of the Buddha; After the Ecstasy, the Laundry; and The Wise Heart.
Praise For Buddha Takes No Prisoners…
"A wise, clear, and playfully irreverent account of a meditator's journey. Patrick Ophuls speaks from experience as he points out the depth of the teachings and the seductions along the way."
—Joseph Goldstein, author of One Dharma: The Emerging Western Buddhism

"Erudite, humorous, intelligent, deeply insightful, extremely well written, accurate, accessible.… I want all my sangha here to read it."
—Robert K. Hall, founding teacher of the Lomi School, Santa Rosa, California, and El Dharma retreat center, Todos Santos, Mexico

"A good introduction for the beginner and a fresh perspective for the experienced practitioner. Alternately makes us laugh at ourselves and reminds us of the poignancy of the teachings."
—Sharon Salzberg, author of A Heart as Wide as the World

"Ophuls gives us a no-nonsense, commonsense tour of mindfulness-based meditation practice, pointing out contradictions and pitfalls, and laughing at our pretentions. ... This book will help you swim to the other shore."
—Wes Nisker, editor in chief, Inquiring Mind

"Patrick Ophuls' style is straight-forward and engaging. He doesn't cut any corners, and he doesn't fluff up his writing… [Buddha Takes No Prisoners is] approachable yet elevating… The book is like a FAQ for your Buddhist practice. I definitely recommend it."
—Home Brew Dharma

"Ophuls has done us all a favor by reframing meditation and the essentials of Buddhism in imaginative terms that are both appealing and edifying. Meditation, he says, is like spring-cleaning your heart and mind."
—Spirituality & Practice