I Am Grateful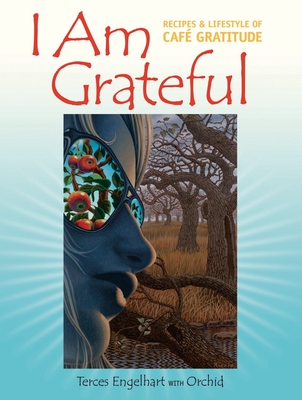 I Am Grateful
Recipes & Lifestyle of Cafe Gratitude
North Atlantic Books, Paperback, 9781556436475, 175pp.
Publication Date: May 1, 2007
* Individual store prices may vary.
Buy Now
or
Shop Local
Enter your zip code below to purchase from an indie close to you.
Description
With locations in San Francisco, Berkeley, Marin, and Los Angeles, Cafe Gratitude has become well known for its inspiring environment and distinctive, flavorful organic foods. In "I Am Grateful, " cofounder Terces Engelhart presents her and her husband Matthew's view of life and business philosophy. She also presents her story of personal healing, sharing highlights of her recovery from food addiction while explaining the benefits of a raw lifestyle. The book's gorgeous, full-color photographs accompany easy-to-follow recipes for the cafe's most popular items, making it easy for readers to prepare live foods at home. Recipes include cafe favorites such as the I Am Luscious raw chocolate smoothie, I Am Bountiful bruschetta, I Am Elated spicy rolled enchiladas, and I Am Amazing lemon meringue pie with macadamia nut crust.
About the Author
Matthew and Terces Engelhart are the owners of Cafe Gratitude, a popular organic vegan restaurant chain in the San Francisco Bay Area and Los Angeles. Terces is also the author of "I Am Grateful, "a recipe and lifestyle book based on their restaurant. They live in San Francisco.


Praise For I Am Grateful…
"I spend a lot of time on the road and eat in a lot of restaurants, but every time I return to San Francisco I go to Café Gratitude to recharge. Not just on the amazing food but also on the energy of the staff and the practice of abundance that Matthew and Terces bring to everything they do. They have affected my life in a profound way!"
—Michael Franti, musician and filmmaker

"Café Gratitude offers an experience that expands what is possible for all people–a great recipe for business. I've watched Café Gratitude grow and have experienced both the flavors of their food and their commitment to providing a sacred experience for their customers."
—Chip Conley, founder and CEO, Joie de Vivre Hospitality

"In I Am Grateful, Terces Engelhart, one of the most extraordinary restaurateurs of our time, delivers more edible joy than we could have previously imagined. Now you can bring the magic of Café Gratitude directly into your home and feed yourself, your friends, and your family these delicious dishes and meals."
—David Wolfe, author of The Sunfood Diet Success System, Eating For Beauty, and Naked Chocolate and founder of the Fruit Tree Planting Foundation

"Whenever we are in San Francisco, Café Gratitude is always our first stop. We eat all our meals there and always leave feeling fulfilled and appreciative that such a place exists. Matthew and Terces are the purest spirits and have raised the bar for what a restaurant can be—a culinary experience with a spiritual lift."
—Woody Harrelson and Laura Louie

"Café Gratitude is a leader of our time, opening us to the path of Divine power, possibility, inspiration, and health through the cultivation of Connection Consciousness.
—Julia Butterfly Hill, founder, Circle of Life

"Even if raw food isn't your thing, [Terces Engelhart's] inspirational story is reason enough to grab a copy of this book."
—Mother Nature Network

"There are color photos throughout the book and positive affirmations are the titles of each recipe, such as I Am Energetic, I Am Grateful, etc…I love the inclusion of juice pulp on many of the recipes--what a great way to minimize waste while maximizing nutrition."
—Eco Mama's Guide to Living Green

"I Am Grateful not only includes a broad range of raw entrees, salads, sauces and drinks, but also includes…the inspiring story of restaurant founder Terces Engelhart and a bit on the philosophy behind her creation."
—Spiritualitea.com

"I Am Grateful is an amazing book."
—Vegan Raw Ranch