12 Steps to Raw Foods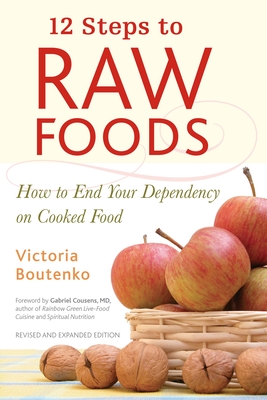 12 Steps to Raw Foods
How to End Your Dependency on Cooked Food
North Atlantic Books, Paperback, 9781556436512, 267pp.
Publication Date: May 8, 2007
* Individual store prices may vary.
Buy Now
or
Shop Local
Enter your zip code below to purchase from an indie close to you.
Description
Why do we overeat time and time again? Why do we make poor diet choices while we want to be healthy? What makes losing weight so difficult? These and many other vital questions are addressed in 12 Steps to Raw Foods in an open and sincere dialogue. Based on the latest scientific research, Victoria Boutenko explains the numerous benefits of choosing a diet of fresh rather than cooked foods. This book contains self-tests and questionnaires that help the reader to determine if they have hidden eating patterns that undermine their health. Using examples from life, the author explores the most common reasons for people to make unhealthy eating choices.

Rather than simply praising the benefits of raw foods, this book offers helpful tips and coping techniques to form and maintain new, healthy patterns. Learn how to make a raw food restaurant card that makes dining with co-workers easy and enjoyable. Discover three magic sentences that enable you to refuse your mother-in-law's apple pie without offending her. Find out how to sustain your chosen diet while traveling. These are only a few of the many scenarios that Boutenko outlines.

Written in a convenient 12-step format, this book guides the reader through the most significant physical, psychological, and spiritual phases of the transition from cooked to raw foods. Embracing the raw food lifestyle is more than simply turning off the stove. Such a radical change in the way we eat affects all aspects of life. Boutenko touches on the human relationship with nature, the value of supporting others, and the importance of living in harmony with people who don't share the same point of view on eating. Already a classic, this enhanced second edition is aimed at anyone interested in improving their health through diet.
About the Author
Victoria Boutenko is an author, teacher, inventor, researcher, artist, and mother of three. She teaches classes on healthy living and raw food all over the world, and her books include 12 Steps to Raw Foods, Green Smoothie Revolution, Raw Family Signature Dishes, and the award-winning international bestseller Green for Life, which has been translated into twenty-six languages and sold over a quarter of a million copies worldwide. Born in Russia, she lives in Ashland, Oregon.
Gabriel Cousens, M.D., is a medical doctor, psychiatrist, family therapist, and licensed homeopathic physician. He received his medical degree in 1969 from Columbia Medical School and completed his psychiatry residency in 1973. He was the chief mental health consultant for Sonoma County Operation Head Start and has served on the board of trustees of the American Holistic Medical Association. He speaks internationally on health topics and is the author of numerous books and articles. Dr. Cousens is the founder/director of the Tree of Life Rejuvenation Center, an innovative holistic retreat center for the renewal of body, mind, and spirit, based in Patagonia, Arizona.
Mark Mayell has written on natural medicine for twenty years. As the editor of Natural Health magazine, he guided it to become the leading national magazine of its kind. He is the author of four hooks, including Natural Energy. He is on the advisory board of the American Holistic Health Association and lives with his family in Wellesley, Massachusetts.
Praise For 12 Steps to Raw Foods…
"The first edition of this book (published in 2000) was excellent. The second edition is masterfully outstanding."
—From the foreword by Gabriel Cousens, MD
 
"Sensational! The why and how of a raw-foods lifestyle in a nutshell. A must-read for those who want more vitality, happiness, and success in their lives."
—Victor M. Vieira, DC, fellow of the International Academy of Clinical Acupuncture
 
"A marvelous book full of useful information for people seeking a better understanding of the relationship between nutritional factors and optimal health. Victoria Boutenko asks probing questions and searches every avenue that can lead to new answers. Her conclusions are remarkable, often surprising, and always illuminating."
—Melvyn L. Iscove, MD
 
"Imagine what would happen in a society wherein people would take responsibility for their own health and wellness. Victoria Boutenko's book provides the basis for this healthier shift in our thinking and daily lifestyle."
—Jeannette Vos, EdD, co-author of The Learning Revolution and The New Learning Revolution  
 
"For those new to Boutenko, this is a great introduction to her ideas, methods and life experiences, the latter of which includes the inspiring account of how she healed her families illnesses through healthful eating and exercise."
—Spiritualitea.com
 
"Victoria Boutenko's revised and expanded 12 Steps to Raw Foods is magnificent! If you have ever attempted to incorporate raw/living foods into your diet to any degree, and hit the wall of resistance, you absolutely must read this book… Victoria's 12-Step outline, which is very loosely derived from her personal research into AA and OA, has helped countless people rise above the struggle of changing behavior, and into an empowered state of raw consciousness."
—Reader Views