The Nail and the Oracle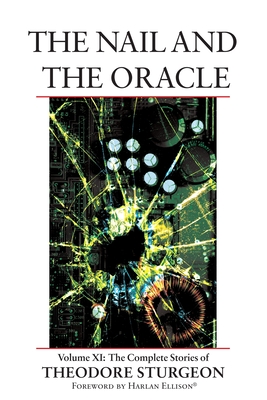 The Nail and the Oracle
North Atlantic Books, Hardcover, 9781556436611, 256pp.
Publication Date: July 17, 2007
* Individual store prices may vary.
Not Currently Available for Direct Purchase
or
Shop Local
Enter your zip code below to purchase from an indie close to you.
Description
This book contains ten major stories by the master of science fiction, fantasy, and horror written during the 1960s. The controversial "If All Men We re Brothers, Would You Let One Marry Your Sister?" shows the author's technique of "ask the next question" used in a way that shatters social conventions. "When You Care, When You Love" offers a prescient vision of the marriage of deep obsessive love and genetic manipulation, written long before actual cloning techniques existed. "Runesmith" constitutes a rare example of Sturgeon collaborating with a legendary colleague, Harlan Ellison. Included also are two other rarities: two detective stories and a Western that showcase Sturgeon's knack for characterization and action outside his usual genre. "Take Care of Joey" has been read as an allusion to the complex personal relationship between Sturgeon and Ellison, while "It Was Nothing, Really!" hilariously skewers the mores of the military-industrial complex. As always, these stories demonstrate not only Sturgeon's brilliant wordplay but also his timeliness, with "Brown-shoes" and "The Nail and the Oracle" standing out as powerful commentaries on the use and abuse of power that might have been written yesterday.
About the Author
Theodore Sturgeon (1918 1985) is considered one of the godfathers of contemporary science fiction and dark fantasy. The author of numerous acclaimed short stories and novels, among them the classics "More Than Human", " Venus Plus X", and "To Marry Medusa", Sturgeon also wrote for television and holds among his credits two episodes of the original 1960s "Star Trek" series, for which he created the Vulcan mating ritual and the expression Live long and prosper. He is also credited as the inspiration for Kurt Vonnegut s recurring fictional character Kilgore Trout.Sturgeon is the recipient of the Hugo Award, the Nebula Award, and the International Fantasy Award. In 2000, he was posthumously honored with a World Fantasy Award for Life Achievement.

Paul Williams is an Assistant Professor in Museum Studies at New York University.

Harlan Ellison has been called one of the great living American short story writers by the "Washington Post". In a career spanning more than fifty years, he has won more awards than any other living fantasist. Ellison has written or edited one hundred fourteen books; more than seventeen hundred stories, essays, articles, and newspaper columns; two dozen teleplays; and a dozen motion pictures. He has won the Hugo Award eight and a half times (shared once); the Nebula Award three times; the Bram Stoker Award, presented by the Horror Writers Association, five times (including the Lifetime Achievement Award in 1996); the Edgar Allan Poe Award of the Mystery Writers of America twice; the Georges Melies Fantasy Film Award twice; and two Audie Awards (for the best in audio recordings); and he was awarded the Silver Pen for Journalism by PEN, the international writers union. He was presented with the first Living Legend Award by the International Horror Critics at the 1995 World Horror Convention. Ellison is the only author in Hollywood ever to win the Writers Guild of America award for Outstanding Teleplay (solo work) four times, most recently for Paladin of the Lost Hour, his "Twilight Zone" episode that was Danny Kaye s final role, in 1987. In 2006, Ellison was awarded the prestigious title of Grand Master by the Science Fiction and Fantasy Writers of America. "Dreams With Sharp Teeth", the documentary chronicling his life and works, was released on DVD in May 2009.
Praise For The Nail and the Oracle…
***Locus Recommended Reading

"The late Ted Sturgeon was one of the greats. If you believe what Harlan Ellison says in his foreword to The Nail and the Oracle, Volume XI: The Complete Stories of Theodore Sturgeon, he may even have been the greatest SF writer ever. Sure, he was quirky, but he could write like an angel and he well deserves the adulation directed toward his ghost since his death in 1985. The present volume collects a dozen of his works from 1957 to 1970, 'his prime story-writing years.' One of the stars of the collection is the famous 'If All Men Were Brothers, Would You Let One Marry Your Sister?' Another is 'Runesmith,' cowritten with Harlan. For the rest, order a copy. Sturgeon, as long as he's been gone, is not a writer one regrets reading."
—Analog Science Fiction and Fact