Healing Your Eyes with Chinese Medicine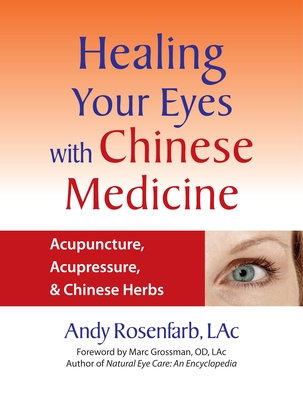 Healing Your Eyes with Chinese Medicine
Acupuncture, Acupressure, & Chinese Herbs
North Atlantic Books, Paperback, 9781556436628, 173pp.
Publication Date: June 19, 2007
* Individual store prices may vary.
Buy at Local Store
Enter your zip code below to purchase from an indie close to you.
or
Not Currently Available for Direct Purchase
Description
For the past ten years, Andy Rosenfarb has successfully used acupuncture and Chinese medicine to treat a wide range of eye conditions. His treatments include moxibustion techniques, tuina (massage), microcurrent stimulation, Chinese herbs, and qigong exercises, along with "essential acupuncture" where essential oils are placed on acupuncture points. The culmination of his work—which includes a recent pioneering study involving metabolic testing–is this handbook for healing the kinds of conditions too often considered almost impossibly challenging or irreversible.The first half of Healing Your Eyes with Chinese Medicine explains Traditional Chinese Medicine and its perspective on the eyes, which is based on the idea that the eyes and the brain work in tandem, not isolation. The second half focuses on proven methods derived from Rosenfarb's practice, including nutritional, supplemental, and lifestyle adjustments. Individual chapters cover eye disorders such as glaucoma, macular degeneration, retinitis pigmentosa, and many more. This book is intended as a practical manual to help readers understand their eyes and vision more comprehensively, and to learn new, affordable ways for retaining the precious gift of sight.
About the Author


Marc Grossman, O.D., L.Ac., is an optometrist who has been trained in Chinese medicine. He is the coauthor of " Natural Eye Care: An Encyclopedia". Vinton McCabe, OVT, a vision therapist and homeopathy educator, has a practice based at the Rye Learning Center in Rye, New York.
Praise For Healing Your Eyes with Chinese Medicine…
"As an optometrist for more than twenty-five years, I see Andy Rosenfarb as one of the emerging leaders in complementary and innovative approaches to vision care. His zest for integrating the ancient traditions of eye care with modern scientific knowledge of the body is a great contribution to the paradigm of twenty-first-century vision care."—Marc Grossman, OD, LAc, from the foreword"Andy Rosenfarb's inquiring mind and tenacity in refining his techniques come together in this incredible book to provide a service both to patients and the medical profession. A summary of current research and new clinical techniques, Healing Your Eyes with Chinese Medicine emphasizes the practical and useful—what helps people of all ages see better. This is an important book."—Greg Bantick, Senior lecturer, Australian College of Natural Medicine, Brisbane, Australia