Fresh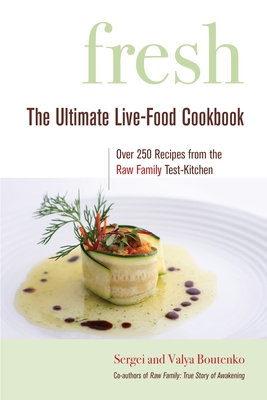 Fresh
The Ultimate Live-Food Cookbook
North Atlantic Books, Paperback, 9781556437083, 216pp.
Publication Date: April 22, 2008
* Individual store prices may vary.
Shop Local
Enter your zip code below to find indies closest to you.
Description
Cookbooks need not—indeed, should not—involve cooking, say the authors of this authoritative, beautifully illustrated book. And they should know. Sergei and Vayla Boutenko bring fifteen years' experience to this collection of scrumptious, sophisticated recipes and comprehensive guide to the raw life.

Fresh covers the whole range of recipes, including savory dishes, desserts, fermented foods, drinks, and wild foods. Techniques common to the recipes are introduced and clearly explained, including an inventory of uncommon fruits and how to handle and prepare them, as well as an immersion into the five basic flavors and the herbs, fruits, vegetables, and grains that help chefs bring out each flavor best. The authors introduce the three stages of adaptation to this lifestyle and provide a concise review of minimal equipment requirements and ideal appliance additions for the well-stocked raw kitchen.
About the Author




Soria is an internationally known vegetarian cook, living foods instructor, lecturer, and food columnist who has assisted thousands of people in becoming more aware of the effect food has on their physical, emotional, mental, and spiritual well-being.
Praise For Fresh…
"Raw food makes us healthy, reverses aging, and improves our appearance, and now you are holding in your hands the proof of raw food's value in rearing exemplary youth. On every page of this book, the authors will surprise and delight you with fresh insights and deep understanding into the child-parent relationship. Their intelligence is vivid, their wisdom is astute, and their love for others is stupendous. Whether you are a parent or child, you will gain insight from this book."
—Tonya Zavasta, author of Your Right to Be Beautiful and Quantum Eating

"Sergei and Valya share much wisdom and wit with sound nutritional guidance. They have been well taught and have a unique ability to share with others their perspective on the path to ultimate health."
—Brigitte Mars, author of Rawsome!, Beauty by Nature, The Desktop Guide to Herbal Medicine, and Addiction Free—Naturally

"Valya's and Sergei's new book inspires and encourages people to explore, persevere, and also to be courageous and imaginative with their new way of eating. They offer helpful and practical guidance and recipes that provide a foundation for success and enjoyment on a raw vegan diet."
—Vance M. Logan, MD

"Not only do Sergei and Valya prepare the most delicious raw foods, which is talent enough, but the clarity, wisdom, and insights they share about food and health are breathtaking. This book is a must-read for any aspiring health seeker-no question. What they teach now is unbelievably cutting-edge, and everyone should know it."
—Karen Knowler, the Raw Food Coach

"The Boutenkos are so far ahead of their time in nutritional wisdom, but draw from the oldest and most simple, instinctive knowledge… The first quarter of [Fresh] is full of insight and information. The rest is comprised of recipes that are accessible and loosely written as to encourage experimentation."
—Eco Mama's Guide to Living Green

"Most of the recipes are quite simple and made with ingredients that are readily available… Fresh: The Ultimate Live-Food Cookbook is a really good place to start if you are interested in exploring the world of raw food."
—Mindful Momma

"The compassion, presence and creativity one finds in Fresh will touch the lives of anyone who reads it, just as Sergei and Valya's love, clarity and maturity continue to impress and inspire in person."
—VegFamily Magazine

"Fresh has many savory dishes, fermented foods, travel and survival foods, drinks, and desserts, plus an inventory of all the uncommon fruits you've wanted to eat, but didn't know how to handle… You'll find the special section that introduces foraging for wild edibles… and suggestions for ways to get kids involved in a raw kitchen."
—Vegan Raw Ranch