Energy Psychology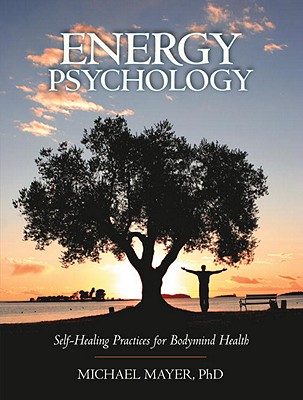 Energy Psychology
Self-Healing Practices for Bodymind Health
North Atlantic Books, Paperback, 9781556437243, 423pp.
Publication Date: April 28, 2009
* Individual store prices may vary.
Buy at Local Store
Enter your zip code below to purchase from an indie close to you.
or
Not Currently Available for Direct Purchase
Description
Energy Psychology presents a comprehensive approach to healing that combines leading-edge Western bodymind psychological methods with a broad system of ancient, sacred traditions. Incorporating Dr. Mayer's integral approach called Bodymind Healing Psychotherapy, Energy Psychology draws on Chinese medicine approaches, including Qigong and acupressure self-touch; kabalistic processes; methods drawn from ancient traditions of meditation and postural initiation; and psycho-mythological storytelling techniques.Drawing on thirty years of training in Tai Chi and Qigong, Dr. Michael Mayer shows how integrating the essences of these traditions and methods can restore vitality and give the average person self-healing tools for physical and mental health. Unlike the quick-fix books on energy restoration, this book uses timetested, age-old practices from sacred traditions in combination with well-established clinical approaches. Dr. Mayer teaches readers bodymind healing methods to treat anxiety, chronic pain, addictions, hypertension, insomnia, trauma, and other prevalent conditions. Written in a clear, intelligible style, Energy Psychology includes real-life case studies that highlight the effectiveness of his techniques.
Praise For Energy Psychology…
"Michael Mayer gives us the breadth and depth of energy psychology and helps us see how it can be part of all of our healing."
—James S. Gordon, MD, founder and director of The Center for Mind-Body Medicine, former chairman of the White House Commission on Complementary and Alternative Medicine Policy, and author of Unstuck: Your Guide to the Seven Stage Journey Out of Depression

"Energy Psychology is a thrilling blueprint for the integration of body, mind, and spirit. This book rewrites the origin myth of psychology and transforms the very ground of psychology by adding Eastern energy practices, storytelling, kabbalistic techniques, and imaginal processes to psychology's roots. It takes the radical perspective that all psychology is energy psychology; and when we expand our scope of vision this way we discover a fertile field for revitalizing our primordial Selves and reclaiming our self-healing abilities."
—Larry Dossey, MD, author of Reinventing Medicine: Beyond Mind-Body to a New Era of Healing

"Drawing upon over thirty years of his psychotherapy practice and personal training, Dr. Mayer has provided a seminal contribution to the field of mind-body interventions for a wide range of common disorders, as he offers us a treasure house of energy-based practices to cultivate our self-healing powers. His book is profound in its scope, evidence based, bridges Eastern and Western traditions, and provides practical insights and skills that can be of enormous value to both individuals and organizations seeking to attain optimal health."
—Dr. Kenneth R. Pelletier, clinical professor of medicine,_University of California, San Francisco and University of Arizona School of Medicine, and author of The Best Alternative Medicine: What Works? What Does Not?

"This scholarly and eminently readable book integrates Eastern and Western forms of self-healing techniques and examines the capacity of various approaches that put human beings at the center of their own self-care. I applaud Dr. Michael Mayer for his monumental work, which hopefully foreshadows the shape of body-mind approaches for years to come."
—Bessel van der Kolk, MD, Medical Director, the Trauma Center, Boston University School of Medicine, and former professor of psychiatry, Harvard University

"The past decade has seen a creative explosion in the integration of ancient healing practices with modern psychotherapy. Michael Mayer provides an ambitious and welcome map for psychotherapists and other healers wishing to embark upon the life-changing journey of adapting these traditions into their own practices."
—David Feinstein, PhD, author of The Promise of Energy Psychology: Revolutionary Tools for Dramatic Personal Change

"Energy Psychology is a valuable addition to the literature on psychological transformation and integral healing, bringing energy into the center of its scope. The procedures described in Michael Mayer's splendid book embrace both mind and body, both East and West, and both  "physical" and "mental" problems. Most importantly, they coordinate external behavior change with internal healing processes. The result is a self-healing program whose goal is lasting change rather than superficial symptom removal. Contemporary practitioners and their patients often opt for the 'quick fix,' but this temporary pallative does not satisfy Dr. Mayer or those who will benefit from reading his book."
—Stanley Krippner, PhD, professor of psychology, Saybrook Graduate School, and author of Haunted by Combat: Understanding PTSD in War Veterans Including Women, Reservists, and Those Coming Back from Iraq

"Energy is the most self-renewing quality of any organism–if the organism is functioning properly.… The energy that joins body to mind is the continuous current that flows through all of Michael Mayer's healing efforts. He brings a practical capacity to utilize Eastern and Western disciplines into relationship with his powerfully intuitive trust of bodymind in a way that is a delight to learn from."
—John Beebe, MD, Jungian analyst, former president, Jung Institute of San Francisco, and author of Integrity in Depth

"The most comprehensive study of the therapy scene—and more—that exists. Dr Mayer has done a brilliant job integrating all aspects of all schools of thought as well as techniques of mind/body healing."
—Jane Goldberg, PhD, psychoanalyst and author of The Dark Side of Love: The Positive Role of Negative Feelings

"Michael Mayer's practical synthesis and deep knowledge of Qigong and Tai Chi movement forms has greatly impressed me during my years administering the Esalen Institute Movement Arts Program. Michael traces the roots of these practices back to their origins and presents a very usable as well as spiritual approach to these ancient and very valuable systems. He stands out among the many teachers I've met and practiced with and has provided me with insights available from no other teacher. With this book Michael Mayer breaks new ground in the realm of bodymind healing approaches, putting his unique synthesis of ancient healing practices and cutting edge psychology into a highly readable form. This deeply researched, unique, and practical manual will undoubtedly bring life-changing experiences to many readers."
—Rick Cannon, Esalen Institute Coordinator, Movement Arts Program

"In the nineteen seventies Dr. Michael Mayer began his study of Tai Chi Chuan and Qigong with me in Berkeley, California. With continuous diligence, devotion, and skill he grows and ages with me as faithful student and friend. It delights my eyes and warms my heart to witness the masterful way Dr. Mayer integrates the ancient wisdom of the East with the psychotherapy of the West."
—Fong Ha, internationally recognized grand master of Tai Chi Chuan and Yi Chuan Qigong

"Written by a licensed psychologist, Energy Psychology combines eastern practices of energy medicine with western practices of psychotherapy for holistic self-healing strategies integrating the best of both worlds. Praising the ancient healing and wellness techniques of Qigong and tai chi, Michael Mayer advocates treating the overall causes of common mental and physical conditions such as anxiety, insomnia and chronic pain, instead of the symptoms. Utilizing case studies of his past patients, Mayer explains and demonstrates these bodymind healing methods in a comprehensive-yet-approachable manner."
—AsiaSpa Magazine