Sacred Commerce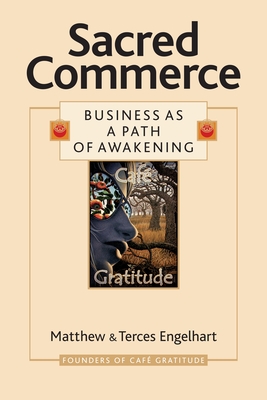 Sacred Commerce
Business as a Path of Awakening
North Atlantic Books, Paperback, 9781556437298, 122pp.
Publication Date: May 6, 2008
* Individual store prices may vary.
Buy at Local Store
Enter your zip code below to purchase from an indie close to you.
or
Buy Here
Description
In this timely book, authors Matthew and Terces Engelhart present the idea that" love before appearances" is the antidote to our spiritual, environmental, and social degradation. Exploring topics such as mission statements, manager as coach, human resources as a sacred culture, and inspirational meetings, they offer a manual for building a spiritual community "at the workplace"--a vital concept in an age when work consumes the bulk of most adults' time. Business, the authors explain, is all about providing a service, product, or experience the market wants, and no business can succeed by failing to understand this point. However, integrating the concept of "Sacred Commerce" into business can provide both financial success and spiritual satisfaction. Stressing that every business is an opportunity to make a lasting impact on the lives of both clients and employees, the Engelharts share the tools they've learned in their own enterprises to fulfill this vision. "Sacred Commerce" is the ideal mix of the personal and the practical--a guidebook written by people who have felt success, not just spent it. Dissatisfaction with work is at record levels, and the Engelharts show that you don't have to suffer personally--or give up your humanity--to pay the mortgage.
About the Author
Matthew' s Bio:
Matthew Engelhart' s business ventures always aspire to shake up the existing paradigm. His Flax Clothing line he grew from one treadle sewing machine to a 28 million dollar a year natural clothing business. This all C.O.D. company (unheard of in the garment industry) was run out of an old dairy barn in central New York. In the next insurrection, he and his wife Terces took on being restaurateurs. Their restaurant chain, Cafe Gratitude, is an experiment in sacred commerce, as well as a organic raw vegan community center. He and Terces lead workshops in sacred commerce, abundance, and relationship as a path of awakening. They are the creators of "The Abounding River" "Personal Logbook" and board game and stewards of Laulima Farm, a jewel of tropical permaculture in east Maui.
Terces' Bio:
Terces Engelhart and her husband, Matthew are founders of Cafe Gratitude, creators of The Abounding River board game and authors of "The Abounding River Logbook," as well as her newest book, "I Am Grateful," recipes and lifestyle of Cafe Gratitude. She and her husband facilitate workshops on Abundance as a quality of the Divine, Kindred Spirit — Spiritual relationship, Sacred Commerce — merging the sacred with the commercial, and One Week Without Sugar — an introduction to a spiritual diet. Some of their workshops are combined with Yoga and living foods on their farm in Maui. She has been featured on radio as well as a cable television. She is the mother of five and grandmother of three. Her life is about making a difference through empowering future generations by bringing out the best in them.

Matthew and Terces Engelhart are the owners of Cafe Gratitude, a popular organic vegan restaurant chain in the San Francisco Bay Area and Los Angeles. Terces is also the author of "I Am Grateful, "a recipe and lifestyle book based on their restaurant. They live in San Francisco.


Praise For Sacred Commerce…
"We are avid fans of anyone who can truly make a difference in these challenging times. Café Gratitude is a model for a successful business, and Matthew and Terces have proven they understand the importance of bringing respect, reverence, and love into the workplace. We're thrilled they have chosen to graciously share their wisdom and experience with this book. There's hope for us all."
—Woody Harrelson and Laura Louie, environmental activists and cofounders of Voice Yourself

"The Engelharts have an intriguing and preposterous notion: Companies can now serve as centers of self-realization and CEOs can nurture a business community's spiritual transformation as well as a healthy bottom line. This is cutting-edge stuff and I'm cheering them on."
—Chip Conley, Founder and CEO of Joie de Vivre Hospitality

"Café Gratitude is in the humankind business. The Engleharts' commitment to a sustainable, socially just, and spiritually fulfilling business presence is hopeful in an era of cynicism and indifference. I have benefited from and am inspired by their valiant stand for making love the bottom line."
—Michel Franti, musician and filmmaker

"Sacred Commerce: Business as a Path of Awakening blends quotations from famous religious and political figures (Rumi to St. Francis of Assisi to Gandhi) with the couple's business philosophy and anecdotes from their experience to provide either an instruction manual or a manifesto—or both—for doing business that honors people's lives."
—Easier Being Green

"Reading [Sacred Commerce] has completely changed the way I look at business. Of course there is nothing wrong with paying the bills, but if we are not enjoying the process and offering something of value to the people who need it, what is the point of business?… Terces and Matthew Engelhart break down their thoughts on making commerce sacred, and it really struck home…"
—unCooking101