Natural Treatments for Tics & Tourette's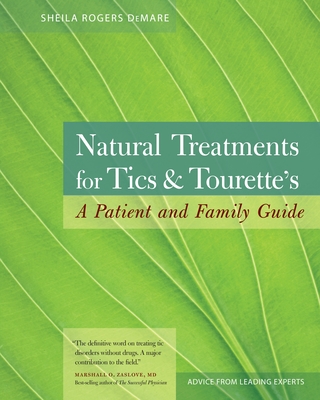 Natural Treatments for Tics & Tourette's
A Patient and Family Guide
North Atlantic Books, Paperback, 9781556437472, 337pp.
Publication Date: October 21, 2008
* Individual store prices may vary.
Buy Now
or
Shop Local
Enter your zip code below to purchase from an indie close to you.
Description
This welcome guide explains how to treat tics and Tourette syndrome using natural and alternative therapies, with a focus on environmental medicine and nutritional and dietary therapy. The status of behavioral and counseling therapies, EEG biofeedback, homeopathy, bodywork, energy medicine, and Chinese medicine as approaches are explored. Author Sheila Rogers DeMare discusses a range of categories of tics including spasmodic facial movements, eye blinking, mild sounds and vocalizations. She persuasively counters the medical establishment's standard claim that such disorders are mysterious and based only in genetics. The dramatic spike in cases, she argues, belies this explanation."Natural Treatments for Tics and Tourette s"takes a closer look at the environmental factors and underlying physical imbalances that trigger these conditions symptoms. In this second edition to"Tics and Tourette's: Breakthrough Discoveries in Natural Treatments," DeMare offers a detailed natural treatment plan. No more will patients have to rely on traditional, drug-based treatments that often carry multiple side effects. In eight sections, the book offers advice from medical experts, the latest reports in medical research, a checklist of common tic triggers, inspirational stories from families who have successfully conquered tics and Tourette's, and practical worksheets for readers to use in their treatment and research. Each of the 23 chapters includes a place for notes and Takeaway Tips summarizing key points.
About the Author
Sheila Rogers, MS, is a leader in the field of integrative therapies for autism, attention deficit disorders, learning problems, depression, anxiety, and tic disorders including Tourette syndrome. She is founder and director of the international nonprofit organization Association for Comprehensive NeuroTherapy. Rogers also serves on the advisory board for Health Journal Television, hosted by General Alexander Haig. As editor of Latitudes Online she communicates regularly with physicians and organizations around the world to learn and share new findings on treating neurological conditions with integrative and alternative methods. Rogers is author of Tics and Tourette?s: Breakthrough Discoveries in Natural Treatments, A Patient and Family Guide. A national speaker on Tourette syndrome for educators, families, and practitioners, Rogers is co-author of the recently released study: ?Nutritional supplements and complementary/alternative medicine in Tourette syndrome? (J Child Adolesc Psychopharmacol. 2004 Winter; 14(4):582-9). Sheila Rogers is a consultant on the childhood obesity epidemic, and coordinated and produced publications for the Healthy Bodies for Healthy Brains initiative in Palm Beach County. A certified school psychologist, she served as Mental Health Liaison for the School District of Palm Beach County, and was program developer for two successful children's services programs in Palm Beach County: Children's Behavioral Health Initiative and Primary Project. Sheila resides in Royal Palm Beach, Florida.
Praise For Natural Treatments for Tics & Tourette's…
"With this book we are competently and comprehensively ushered into a new era of treatment for children. It is a triumph and an indispensable guide for any parent of a child with a neurological disorder—ADHD, obsessive-compulsive disorder, autism, and mood disorders…. Nowhere else can parents find such a well-organized and scientifically documented presentation of promising alternative medical treatments. Countless families will find this book a comfort, an intelligent, easy-to-read reference, and a lifeline for bringing their child back to health."
—Tamar Chansky, PhD, author of Freeing Your Child from OCD; Freeing Your Child from Anxiety
 
"Whether you're concerned with minor tics or a more serious case of Tourette syndrome, you'll find yourself turning to this book again and again for its enlightening exploration of treatment choices and practical steps toward healing."
—Chris Phelps-Thiry, EdD, former state chapter chair of the Connecticut Tourette Syndrome Association
 
"Natural Treatments for Tics & Tourette's is an alternative treatment guide for sufferers of Tourette's who don't want to turn to traditional drugs and their high saturation of side effects. With insights from various medical experts, author Sheila Rogers offers many routes to minimizing the effects of Tourette's."
—Midwest Book Review