Beyond Antibiotics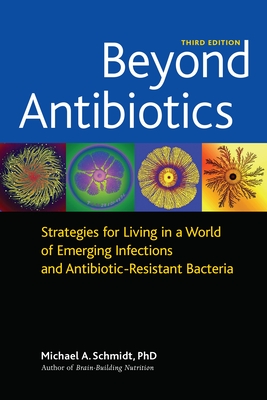 Beyond Antibiotics
Strategies for Living in a World of Emerging Infections and Antibiotic-Resistant Bacteria
North Atlantic Books, Paperback, 9781556437779, 435pp.
Publication Date: January 20, 2009
* Individual store prices may vary.
Buy at Local Store
Enter your zip code below to purchase from an indie close to you.
or
Buy Here
Description
At a time when the numbers of emerging infections and antibiotic-resistant bacteria are rising sharply, the supply of new antibiotic drugs has been steadily decreasing. In addition, many health providers have failed to consider that our bodies are cloaked in a blanket of bacteria so pervasive that the bacterial cells outnumber our "human" cells by a factor of ten. In short, we are living in a microbe's world and cannot ignore the very real potential for untreatable serious infections.

In this timely book, Dr. Michael Schmidt proposes we focus on strengthening ourselves by thinking of our bodies as a "human-microbe hybrid." This requires taking action to raise our defenses, while preserving the integrity of the microbial elements that live on and within us. Drawing on the latest research from several scientific fields, Schmidt presents a strategy of medicine that can be used to build and balance our system of immune defense and repair. He offers a set of general recommendations that can easily be used to tailor programs to individuals seeking to support health maintenance, prevent illness, fight active acute or chronic infections, and foster faster recovery from infections.
About the Author
Michael A. Schmidt, PhD, did his doctoral research in molecular medicine within the Life Sciences Division at NASA Ames Research Center in Moffett Field, California. He continues to work in collaboration with NASA scientists in the field of metabolism and human performance. Dr. Schmidt is the author of six popular books on health and nutrition, and he is coeditor of a forthcoming textbook on nutritional pharmacology and clinical neuroscience. Dr. Schmidt is a professional member of the Society for Neuroscience, the Metabolomics Society, and the Epigenetics Society. He currently directs a research laboratory in Boulder, Colorado.
Praise For Beyond Antibiotics…
"Beyond Antibiotics is brilliant and well-researched. Dr. Schmidt offers a unique perspective on the skirmish between the outnumbered human host and the defiant bacteria. This riveting account is a valiant piece for our time."
—Andrew H. Meyer, MD, Fellow, American College of Cardiology

"Dr. Michael Schmidt is that rare enigma of intellectual genius and gifted storyteller. He has an uncanny gift for taking complex concepts and articulating them in layman's terms."
—J'Lein Liese, PhD, President, Foundation for Global Leadership

"This focus on how natural immunity may be boosted without antibiotics and how to avoid antibiotics is key to our times."
—The Midwest Book Review