Raw Family Signature Dishes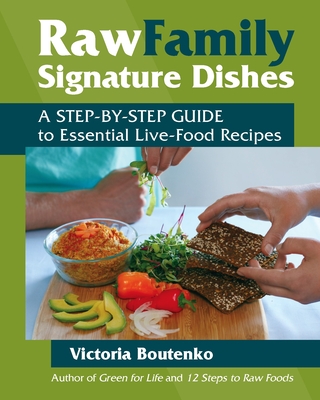 Raw Family Signature Dishes
A Step-By-Step Guide to Essential Live-Food Recipes
North Atlantic Books, Paperback, 9781556437977, 160pp.
Publication Date: July 21, 2009
* Individual store prices may vary.
Buy Now
or
Shop Local
Enter your zip code below to purchase from an indie close to you.
Description
While the raw food diet is the fastest growing alternative approach to eating because of its health benefits, preparing raw food dishes is so new that many people don't know where to start. With 500 color photos, this friendly, step-by-step guide gently walks readers through recipes to create amazingly delicious and nutritious meals. Victoria Boutenko and her family are known worldwide as the Raw Family, living on a raw diet and teaching classes since 1994. Throughout the years they have perfected scores of scrumptious recipes with the idea of not only spreading the gospel of the diet's health benefits, but also making the raw foods lifestyle realistically possible and enjoyable.Mouth-watering rather than medicinal, simple rather than complicated, the recipes presented here include jams, scones, soup, crackers, nut milk, truffles, chocolate cake, mousse cake, and more. Complete, illustrated directions make it simple for both avid raw foodists and novice cooks alike to embrace the diet favored by Woody Harrelson, Demi Moore, Donna Karan, and other celebrities.
About the Author
Victoria Boutenko is an author, teacher, inventor, researcher, artist, and mother of three. She teaches classes on healthy living and raw food all over the world, and her books include 12 Steps to Raw Foods, Green Smoothie Revolution, Raw Family Signature Dishes, and the award-winning international bestseller Green for Life, which has been translated into twenty-six languages and sold over a quarter of a million copies worldwide. Born in Russia, she lives in Ashland, Oregon.
Praise For Raw Family Signature Dishes…
"The Boutenkos have done it again. This excellent visual step-by-step guide makes raw food easy and approachable for anyone. A valuable kitchen resource."
—Ani Phyo, author of Ani's Raw Food Desserts and host of Ani's Raw Food Kitchen Show

"One of the most helpful resources one could ask for in raw food preparation, whether you are a beginner or skilled raw food chef."
—Alyssa Cohen, author of Living on Live Foods

"I love the delicious, creative food of the Boutenko Family. In fact, their journey into eating raw was a key inspiration for me to start my own company. . . . Raw Family Signature Dishes will be front and center in my library."
—Lara Merriken, founder of LÄRABAR

"Only someone with the vast teaching experience that Victoria has could understand so deeply what it is that people want and need in order to succeed at a raw food lifestyle. Absolutely brilliant."
—Nomi Shannon, author of The Raw Gourmet and Raw Food Celebrations

"Tried-and-true recipes that are delicious enough to eat week after week without having a lot of fancy equipment, expensive ingredients, or culinary expertise."
—Cherie Soria, Living Light Culinary Arts Institute

"Another cool book from the Boutenkos. Rawsome!"
—Chef Juliano, author of Raw: The Uncook Book and owner of Juliano's Raw restaurant

"Have you ever made a recipe and found that it just didn't turn out nearly as nice as the stunning color photo in the book? One thing that makes this uncook-book unique is its step-by-step guide with photos of each step in the process. With this book, no one can use the excuse that the learning curve for making raw is too hard…I have dozens of raw food recipe books, but this one is destined to become a classic—removing the mystique and fear of creating raw gourmet food once and for all!"
—Basil & Spice

"A unique and different un-cook book than any I've received so far."
—Weekly Revvellations

"[Raw Family Signature Dishes is] an innovative recipe book that is perfect for raw food beginners."
—Raw Food Right Now

"[This book's] simplicity is very comforting and almost like having an experienced friend in the kitchen with you."
—Eco Mama's Guide to Living Green

"[Raw Family Signature Dishes] has a lot of pictures showing each step… making it fabulous for beginners and those of us who like to oogle over food photos!"
—Crunchy Bits

"I absolutely love this book! The pictures are awesome. I love the step by step instructions. This is a must have for someone just getting into the raw food diet!"
—Debra Garner, Vegan Family Style

"Any interested in the blossoming raw food revolution will find this primer, Raw Family Signature Dishes: A Step-by-Step Guide to Essential Live-Food Recipes, provides an outstanding selection of dishes."
—Midwest Book Review