The Hunt for the Eye of Ogin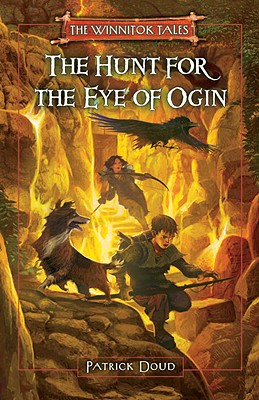 The Hunt for the Eye of Ogin
North Atlantic Books, Hardcover, 9781556438226, 313pp.
Publication Date: February 23, 2010
* Individual store prices may vary.
Buy at Local Store
Enter your zip code below to purchase from an indie close to you.
or
Not Currently Available for Direct Purchase
Description
Elwood Pitch is only thirteen years old when he is carried away to the land of Winnitok, in the otherworld of Ehm. Desperate to find a way back home to his family, Elwood's one hope is Granashon, the land's immortal protector. But Granashon is missing, and her power that protects Winnitok is fading fast. When Elwood dreams of the Eye of Ogin, a legendary object with the power to see Granashon wherever she might be, he vows to find it. With his dog Slukee and two newfound companions, Drallah Wehr of Winnitok and her talking raven Booj, Elwood sets out on an epic quest.

Legend states that the Eye was lost in the Great Swamp of Migdowsh, a land of nightmare ruled by a horrible frog demon known as the Otguk. The Great Swamp is far to the west, and a vast wilderness lies between the companions and their goal. Many dangers threaten them along the way-hungry nahrwucks, cruel green yugs and their Graycloak masters, a despotic girl queen and the powerful witch who counsels her-but by their wits and courage, as well as an unseen hand that seems to guide and protect them, the companions reach the Great Swamp at last. And then their troubles really begin…

Will they find the Eye and Granashon? Will Elwood find a way home? And how will he live with the terrible truth the Great Swamp reveals to him? Patrick Doud brings memorable characters, poetic language, and a driving narrative to this timeless tale that recalls classic epic adventure stories.
About the Author
Patrick Doud was born in 1968 in Syracuse, New York. He grew up in Bernhards Bay, a hamlet on the northern shore of Oneida Lake, and in East Amherst, a suburb of Buffalo. After several years of academic wandering he ended up at Bard College in the Hudson Valley, where he studied literature. Three books of his poetry were published in the nineties: "Girding the Ghost," "The Man in Green," and "Hickory Bardolino Poems." Although he continues to be involved with poetry, these days most of his attention is devoted to fantasy. He is quick to explain that there is much traffic between the two. He and his family live in Gloucester, Massachusetts, in a house near the woods, the city, and the sea.
Praise For The Hunt for the Eye of Ogin…
"A thoroughly enjoyable adventure from first page to last."
—Midwest Book Review

"A classic family adventure for everyone to read and enjoy."
—Mr. Ripleys Enchanted Books

"I really enjoyed this book. I'm looking forward to the next book in the series."
—The Bluestocking Guide

"Doud's writing is smart and quick, accessible and enjoyable. His action and chase sequences put me on the edge of my seat."
—The Crowded Leaf

"The visuals that [Patrick Doud] created were breathtaking and utterly creative. Everything from the different races of creatures to the language itself was refreshing and new."
—I Just Wanna Sit Here And Read

"Patrick Doud's writing is intense and very creative...I definitely want to read the next book in the series!"
—The Heart of Dreams

"Doud has created a vast world of fantastic creatures of mythical proportions…a wonderful climactic ending with an unexpected twist, left me pleasantly satisfied."
—Sci Fi Chick

"I thoroughly enjoyed this adventurous and magical tale. I'd recommend it to young and old alike."
—The Cajun Book Lady

"Definitely an unexpected large cast of strength, but refreshing nonetheless...I am curious about the next adventure and how their relationships grow."
—Satisfaction for Insatiable Readers

"The Hunt for the Eye of Ogin is a promising start to an epic series, sure to enthrall fans of Lord of the Rings. With beautifully written passages and a great cast of strong characters, it's a must-read for fantasy fans."
—Bri Meets Books