Power of the Five Elements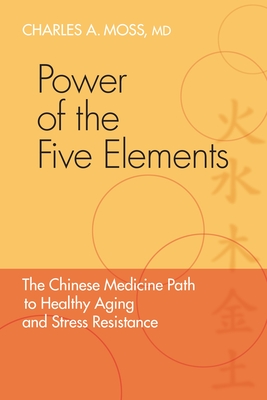 Power of the Five Elements
The Chinese Medicine Path to Healthy Aging and Stress Resistance
North Atlantic Books, Paperback, 9781556438745, 298pp.
Publication Date: April 6, 2010
* Individual store prices may vary.
Buy at Local Store
Enter your zip code below to purchase from an indie close to you.
or
Buy Here
Description
Based on his thirty years of using acupuncture in an integrative medical practice, "Power of the Five Elements "presents the Five Adaptation Types, Dr. Charles Moss's modern application of the Five Elements of Chinese medicine.
This book provides you with:
A roadmap to understanding why you react to stress the way you do and a comprehensive new approach to improving your ability to adapt
A fascinating synthesis, presented for the first time, of the ancient wisdom of Taoist Chinese Medicine and current mind-body research
Case histories and questionnaires to identify your Adaptation Type and specific, individualized recommendations behavioral changes, exercises, meditations to improve adaptation, reduce stress, and enhance healthy aging
A clear understanding of the importance of lowering abnormal levels of cortisol, the main stress hormone associated with heart disease, diabetes, and cancer
If you are ready to increase your energy levels, improve your mood, and reduce your risk for serious illness, get started today and discover your Adaptation Type through "Power of the Five Elements.
Praise For Power of the Five Elements…
"In this enlightening book, Dr. Charles Moss offers us the opportunity to heal our modern world through the wisdom of the ages."
—David Simon, MD, cofounder of the Chopra Center for Wellbeing and author of Free to Love, Free to Heal

"Dr. Charles Moss catapults the discipline of Five Element acupuncture into the contemporary framework of an individual's response to life's stressors. His Five Adaptation Types each embody the qualities of an element, and he lucidly animates them with snapshot stories from his clinical practice. This is the inevitable next step of integrating the classical Five Element model into modern medicine's understanding of mind-body dynamics."
—Joseph M. Helms, MD, president of Helms Medical Institute and founding president of the American Academy of Medical Acupuncture

"Dr. Charles Moss, a masterful physician and acupuncturist, penetrates the mysteries of classical Chinese medical thinking to give us a truly useful guide to meeting life's challenges. He demystifies this deeply thoughtful approach to health while honoring its physical, emotional, and spiritual insights. Dr. Moss makes ancient wisdom immediately applicable to dealing with modern stress, giving us clear, specific instruction for using our adaptive strengths to live a healthy, more conscious life."
—Martin L. Rossman, MD, Dipl. Ac. (NCCAOM), author of Guided Imagery for Self-Healing

"This book is a must-read for everyone who wants the answer to two questions: What makes a person vulnerable to illness and premature aging? What brings a person vibrant health? I loved it and highly recommend it."
—Bill Bachrach, CSP, CPAE; author of Values-Based Financial Planning

"Power of the Five Elements is a must-read for those practitioners of acupuncture who desire to have a powerful and lasting effect on their patients' mental and physical health. The author points out that when combined with proper diet, mindful meditation techniques, and appropriate exercise, the adaptive powers of the Five Elements can provide 'long life and everlasting vision.' This book brings these ancient techniques to modem life usefulness."
—Medical Acupuncture Journal

"Power of the Five Elements provides a unique way of finding essential peace for the sake of both mind and body."
—Energy Times