On the Origin of Form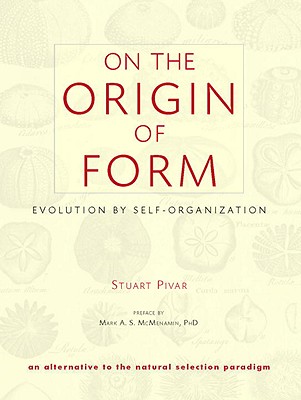 On the Origin of Form
Evolution by Self-Organization
North Atlantic Books, Paperback, 9781556438868, 122pp.
Publication Date: July 28, 2009
* Individual store prices may vary.
Not Currently Available for Direct Purchase
or
Shop Local
Enter your zip code below to purchase from an indie close to you.
Description
On the Origin of Form presents a new account of evolution and the origin of life based on the premise that the body form of any species is encoded not in the DNA but in the patterned structure of the primordial germ plasm—the universal predecessor of the egg.

Two hundred years after Johann von Goethe's Faustian quest for the Urform, the archetypal design underlying all living form, comes the recent discovery that organic forms are derived from a unique, self-organized, pre-embryonic structure. This explanation of evolution is an alternative to the now widely questioned Neo-Darwinist theory of natural selection of random mutations. This new model is based on known, relatively uncomplicated scientific principles and is easily accessible to the interested layman. Included are sixty-four pages of illustrations that support this new theory. For additional information, please visit www.ontheoriginofform.com.
About the Author


Richard Milner is an Associate in Anthropology at the American Museum of Natural History, contributing editor at "Natural History "magazine, and Fellow of the Linnean Society of London. Author of three award-winning books on evolution, he has published articles in "Scientific American "and other science magazines and has been featured on the History, Discovery, and Animal Planet channels, as well as on BBC Two and "Nova. " Milner has performed his one-man musical Charles Darwin: Live & In Concert in the United States, United Kingdom, Germany, Australia, and in Darwin's beloved Galapagos Islands.

Stephen Jay Gould (1941-2002) was the Alexander Agassiz Professor of Zoology and Professor of Geology at Harvard University. He published over twenty books, received the National Book and National Book Critics Circle Awards, and a MacArthur Fellowship.
Praise For On the Origin of Form…
"Stuart Pivar's book, On the Origin of Form, contains ideas that deserve full scientific scrutiny, especially in light of the turmoil roiling evolutionary biology at present. Pivar is presenting, in a series of brilliantly rendered graphical diagrams that show his interpretation of how modifications of a torus shape can generate a vast panoply of biotic form, a new theory of morphogenesis.... This is a seismic event for science. Conventional evolutionary biologists are right to be very worried about this, because it has the potential to trigger the complete collapse of Modern Synthesis Biology."
—Mark A. S. McMenamin, PhD, Paleontologist, Professor of Geology, Chair of Earth and Environment, Mount Holyoke College

"This is the discovery of the connection between the laws of physics and the complexity of life."
—Murray Gell-Mann, PhD, Distinguished Fellow, Santa Fe Institute, Nobel Laureate