Beyond the Matrix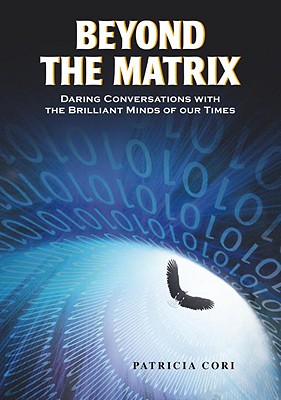 Beyond the Matrix
Daring Conversations with the Brilliant Minds of Our Times
North Atlantic Books, Paperback, 9781556438936, 433pp.
Publication Date: May 25, 2010
* Individual store prices may vary.
Buy at Local Store
Enter your zip code below to purchase from an indie close to you.
or
Buy Here
Description
Those concerned with the current eco-crisis most often look only to scientists and politicians for solutions. In this important book, Patricia Cori invites another, overlooked group perhaps the most important one to join the discussion. "Beyond the Matrix "collects some of the most provocative, forward-thinking interviews conducted on Cori's radio show of the same name, bringing together leaders in various fields of alternative thinking to propose new and exciting perspectives on the future of humanity as we approach the potentially life-changing 2012.
"Beyond the Matrix" offers a portrait of a refreshingly optimistic future in a time when we are bombarded with an apocalypse scenario as the future of our civilization. The book features no-holds-barred, in-depth interviews with such renowned thinkers as "New York Times" best-selling author and theoretical physicist Michio Kaku, whom many call the Einstein of our times; respected UFO and ET investigator Stanton Friedman; radical Egyptologist Stephen Mehler; former astronaut and the sixth man on the moon Dr. Edgar Mitchell; crop circle expert Andy Thomas; intuitive physicist MaAnna Stephensen; Paradigm Research Group director Stephen Bassett; founder of bluevoice.org Hardy Jones; and nine others. The probing conversations cover a bracing range of subjects, from string theory, UFO and extraterrestrial life, crop circles, and ecology to healing, Egyptian mysticism, ascension, and other significant topics that swirl in our minds as we face a new paradigm for human exploration, where spirit and science finally merge. With its blend of fascinating dialogue and higher ideals, "Beyond the Matrix" offers both hope and reassurance in these challenging times.
About the Author
Lee Carroll has been channeling Kryon for many years and is the author of Kryon books, most recently Lifting the Veil: The New Energy Apocalypse. As Lee Carroll he is the author is the co-author of The Indigo Children. He and his partner, Jan Tober, began Kryon light groups in 1991 and now host groups around the world. Carroll lives in San Diego, California. Visit him online at www.kryon.com.
Praise For Beyond the Matrix…
"Amazing works, but 'phenomenal' is far more accurate! Uncanny intuition and incredible psychic gifts have made Patricia Cori an international icon and one of the finest radio hosts on BBS Radio, with her weekly radio program Beyond The Matrix. Her extraordinary vision and the way she communicates her truth to her readers will make Patricia a staple in every library. This woman will change your entire life, just like magic!"
—Donald Newsom, president of BBS Network, Inc. (bbsradio.com)

"Patricia Cori is a prophetess, someone the entire world needs to listen to. Her information is vital to our survival."
—Curtis Davis, The Occult Network

"Not only does she bring us information – she brings solutions.…"
—Tamara Westwood, Illuminations Radio

"Patricia Cori has been recognized as one of the great channels of our time!"
—Sharon Taphorn, The Shift Radio

"A fascinating discussion! Patricia Cori is an expert on the subject of 2012.…"
—Tommy Schnurmacher, KJAC Radio Montreal

"Patricia is one of the most insightful guests that I have had in a while, and she tells it like it is!"
—Keith Murphy, host of The Urban Journal radio show

"Some people throw pebbles into the ocean and some people throw rocks which create an even bigger ripple. Patricia is like that rock … I love how she is helping humanity rise in consciousness."
—Ralph Okrafo-Smart, Infinite Waters Radio

"I have never read such powerful and truthful material."
—Award-winning filmmaker Christianne van Wijk

"This cutting-edge book highlights the Renaissance we are undergoing as we approach the 2012 bench-mark. It brings together great minds with great conversations which show the melding of Spirit and Science...The conversations are perhaps the most intellectually stimulating conversations I have ever read that pushes the boundaries of that Matrix of reality we have put our minds in as a species."
—Starseed Shaman

"Patricia Cori is a tremendous gift to us all. She has honoured the call of her Soul, and walks as an example of one dedicated to service of the awakening human spirit. Her multidimensional agility in conversation, grounded in her rich personal life experience, offered such sweet music for the dance we shared with all of the listeners, and more to come, who will enjoy the archives. Many thanks to you, Patricia, for your courage and for choosing to be with us all at this time."
—DJamil Graham, Alchemy of Light Broadcast, BBSRadio.com

"Patricia Cori is one of the most fascinating, charismatic, articulate, knowledgeable and intriguing guests I ever had on The Paranormal Show. I was so captivated by Patricia that the hour interview passed by like a flash of light. When the folks in the control room at the TV station gave me the instructions in my earpiece to wind down the show as we were nearing the end of it, I had to look at my watch to validate that I was being given the correct message. She is a class act, both on the inside and the outside. Needless-to-say, Patricia will be a welcome guest on my show whenever her travels take her to Canada."
—Stan Mallow, Host, The Paranormal Show