Presence Meditation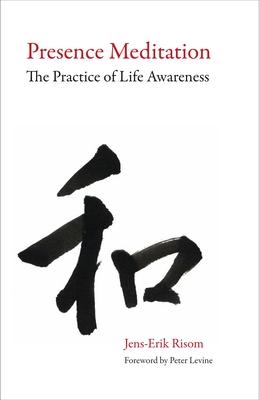 Presence Meditation
The Practice of Life Awareness
North Atlantic Books, Paperback, 9781556439124, 75pp.
Publication Date: August 24, 2010
* Individual store prices may vary.
Buy Now
or
Shop Local
Enter your zip code below to purchase from an indie close to you.
Description
First developed as a short manual for students in a yearlong meditation course, Presence Meditation offers a step-by-step program for increasing self-awareness through simple but revelatory exercises. The practice of presence meditation involves becoming present to whatever is going on and letting things be just as they are. This awareness is characterized by open attention and neutral observation, which increases the capacity to observe without judging, enables transformation without forcing, and opens the way to a more immediate sense of meaning and joy in life. Author Jens-Erik Risom begins by describing the purpose of meditation and the "four introductions" (rootedness, attention to breathing, fullness of feeling, and witness awareness), and then presents the gradual steps for achieving presence, deepening neutrality, opening to trust, sensing spaciousness, and more.

There are many books about meditation on the market, from Western authors like Eckhart Tolle to Tibetan Buddhist teachers. But many people find it difficult to translate the message of these books into an actual experience of deepening awareness. Whether readers are seeking a spiritual practice, a more serene approach to stressful situations, improved concentration, or greater relaxation for better health, this compact manual offers a simple, undogmatic approach to meditation.
About the Author


Marianne Bentzen is a neuroaffective psychotherapist, who has been leading professional trainings in Somatic Psychotherapy in Europe and North America since 1982. Her focus today is on the practical applications of neuroaffective developmental psychology, PTSD treatment, mindfulness practice and systemic processes. She has authored numerous articles for professional publications in Danish, English, and German.

Peter A. Levine received his Ph.D. in medical and biological physics from the University of California at Berkeley, and holds a doctorate in psychology from International University. During his 35-year study of stress and trauma, he has contributed to scientific and medical publications and served as consultant for NASAs space shuttle program. He has taught at the Hopi Guidance Center and at hospitals and pain clinics throughout the world. Dr. Levine is currently a consultant for the Pain Rehabilitation Center in Boulder, Colorado. He is the coauthor, with Ann Frederick, of Waking the Tiger: Healing Trauma.
Praise For Presence Meditation…
"While there are many books on meditation as well as on meditation/therapy, I believe Presence Meditation covers several areas not adequately addressed (or not addressed at all) by the current books in print. It also covers various theories and practice that one rarely finds under one cover. The book is rich in clear, simple explications of important meditative perspectives and techniques from presence and mindfulness to Zen and Tibetan Buddhism."
—Peter Levine, author of Waking the Tiger: Healing Trauma