Hope Beneath Our Feet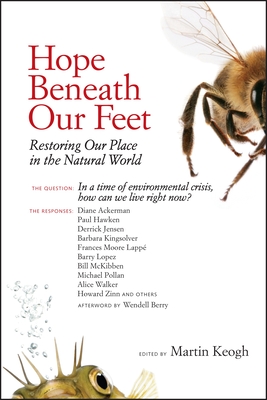 Hope Beneath Our Feet
Restoring Our Place in the Natural World
North Atlantic Books, Paperback, 9781556439193, 320pp.
Publication Date: September 7, 2010
* Individual store prices may vary.
Buy at Local Store
Enter your zip code below to purchase from an indie close to you.
or
Buy Here
Description
The environmental "tipping point" we approach is more palpable each day, and people are seeing it in ways they can no longer ignore—we need only turn on the news to hear the litany of what is wrong around us. Serious reflection, inspiration, and direction on how to approach the future are now critical.

Hope Beneath Our Feet creates a space for change with stories, meditations, and essays that address the question, "If our world is facing an imminent environmental catastrophe, how do I live my life right now?" This collection provides tools, both practical and spiritual, to those who care about our world and to those who are just now realizing they need to care. Featuring prominent environmentalists, artists, CEOs, grassroots activists, religious figures, scientists, policy makers, and indigenous leaders, Hope Beneath Our Feet shows readers how to find constructive ways to channel their energies and fight despair with engagement and participation. Presenting diverse strategies for change as well as grounds for hope, the contributors to this anthology celebrate the ways in which we can all engage in beneficial action for ourselves, our communities, and the world.

Contributors include:
Diane Ackerman
Paul Hawken
Derrick Jensen
Barbara Kingsolver
Francis Moore Lappé
Barry Lopez
Bill McKibben
Michael Pollan
Alice Walker
Howard Zinn
About the Author


Sandor Ellix Katz is a self-taught fermentation experimentalist. He wrote Wild Fermentation: The Flavor, Nutrition, and Craft of Live-Culture Foods--which Newsweek called "the fermenting bible"--in order to share the fermentation wisdom he had learned, and demystify home fermentation. Since the book's publication in 2003, Katz has taught hundreds of fermentation workshops across North America and beyond, and authored The Art of Fermentation (2011) and the instructional DVD Fermentation Workshop with Sandor Ellix Katz (2010). A native of New York City, he now gardens, saves seeds, tends goats and chickens, and produces biodiesel from used fry oil in an off-the-grid community in the hills of Tennessee.

Barbara Kingsolver's work has been translated into more than twenty languages and has earned a devoted readership at home and abroad. She was awarded the National Humanities Medal, our country's highest honor for service through the arts. She received the 2011 Dayton Literary Peace Prize for the body of her work, and in 2010 won Britain's Orange Prize for The Lacuna. Before she made her living as a writer, Kingsolver earned degrees in biology and worked as a scientist. She now lives with her family on a farm in southern Appalachia.
Praise For Hope Beneath Our Feet…
"This compelling and inspirational anthology raises a chorus of voices in defense of the earth. Hope Beneath Our Feet addresses the environmental problems plaguing our planet and the myriad forms of action each of us can take."
—Leonardo DiCaprio, actor and activist

"Wonderfully uplifting and inspiringly diverse perspectives on aligning ourselves with the fullness of our own possibilities as individuals and as a species. The bottom line: flavor and savor every moment, especially the toughest ones, with not-knowing, with good will, imagination, kindness, wisdom, humor, community, and action. My father-in-law, Howard Zinn, said it so well: "Small acts, when multiplied by millions of people, can transform the world.'"
—Jon Kabat-Zinn, author of Full Catastrophe Living and Coming to Our Senses

"Hope Beneath Our Feet is just that. With penetrating clarity it takes us into the depths of our essential nature: our courage, brilliance, and resilience. We are called to take advantage of the greatest opportunity for conscious self-evolution the human species has ever been given. A real masterwork."
—Barbara Marx Hubbard, author of Conscious Evolution: Awakening the Power of Our Social Potential and founder of the Foundation for Conscious Evolution

"This is a wonderful, inspirational book composed of works by thoughtful, intelligent, and caring people discussing the fact that we and our fellow species face extinction if we proceed with life as we have in the last two hundred years. As I continue to struggle with the monumental challenges facing the human psyche, the hope and new ideas embedded in these essays have lifted my flagging spirits. Essential reading."
—Helen Caldicott, author of Nuclear Power Is Not the Answer to Global Warming and If You Love This Planet

"Hope Beneath Our Feet: Restoring Our Place in the Natural World offers a powerful set of essays...their diverse answers and thoughts offer important insights key to understanding personal responsibility and replacing despair with hope and action."
—Midwest Book Review

"More than a book to simply read and ponder, Hope Beneath Our Feet offers thought-provoking suggestions for implementing real change."
—San Francisco Book Review

"The real value of Hope Beneath Our Feet is that it provides not only places to start, but reasons to keep going once you've started...if you're a Cowbell reader who's never picked up a green-themed book in your life and you're wondering where to start, then Hope can act as a crash-course in the ideas behind sustainable activism."
—Jess Harvell, Editor-in-Chief, Cowbell Magazine

"Keogh has managed to wrangle a lot of intellectual heavy-hitters—environmentalists Bill McKibben and Vandana Shiva, the late historian Howard Zinn, journalist Michael Pollan—and Hope offers an excellent overview of the contemporary environmental movement."
—Grid Magazine

"There is no more meaningful action we can take than to struggle on behalf of life on this planet. The profoundly hopeful and inspiring essays in this anthology help us remember our place in the web of life and recover a deep awareness of our own ecological identity, motivating us to continue our efforts."
—John Seed, founder of the Rainforest Information Centre in New South Wales, Australia and co-author of Thinking Like a Mountain: Towards a Council of All Beings

"This fierce collection is a pragmatic and poetic call to action for the environmental predicament that we've authored. Its message is compelling and, if acted upon, contains powerful medicine to heal ourselves and the planet."
—Richard Strozzi-Heckler, author of The Leadership Dojo

"A major antidote for despair is engagement and participation: that is the key message of this collection of leading thinkers and doers hard at work on the dire problem of worldwide ecological decline. What creative responses to the crisis of our time await beyond weary save-the-world technologism, activism, and heroism? What can you do, today, to help? Find out here."
—Craig Chalquist, co-editor of Ecotherapy: Healing with Nature in Mind and core faculty member at John F. Kennedy University

"Hope Beneath Our Feet is the tonic needed right now in the world to inspire the many of us who care about preserving our earth but wonder if humankind can actually get it together. The chorus of voices in this book gives us much hope that we can. Read this book and learn why, and then help bring it into being by taking action beneath your feet."
—David Gershon, Author of Social Change 2.0: A Blueprint for Reinventing Our World and Low Carbon Diet: A 30 Day Program to Lose 5,000 Pounds

"We are learning to see and hear a new kind of beauty. That beauty is in the clear and urgent prose of this book."
—Coleman Barks, author of The Essential Rumi and The Book of Love

"This book presents a rich lode of psychological resilience for those who suffer from a depletion of ecological optimism. The authors of this uplifting compendium embody the hope and wisdom that flows from rootedness."
—Richard Heinberg, Senior Fellow, Post Carbon Institute

"Practical inspiration intertwined with authentic hope, written by people living inspiring and authentically hopeful lives and transforming the world. Read it and join the transformation."
—David W. Orr, author of Down to the Wire and Hope is an Imperative: The Essential David Orr

"Luscious, grounding, and disturbing, this book offers potent medicine for all those working for change, and a swift kick in the ass for those who ain't. A bracing, polyphonic bundle of necessary voices."
—David Abram, author of Becoming Animal: An Earthly Cosmology

"The greatest opportunity of our time is to reverse climate change and restore the sustainability of planet earth. This book offers a timely, relevant, and compelling invitation to action; is an extraordinary anthology that contains diverse and practical ways in which we can individually and collectively change the world in positive and tangible ways for the generations of the future."
—Angeles Arrien, PhD, author of The Four-Fold Way and The Second Half of Life

"Such a marvelous collection of essays! This is truth telling that chills and inspires, cajoles and provokes. Let us hope these essays transform us on every level of our being for the sake of future generations."
—Mary Evelyn Tucker, Forum on Religion and Ecology at Yale University

"My kind of anthology! The volume bravely captures the seriousness as well as optimism of this blessed moment. Authors propose pathways and designs that create better life and livability for humans as well as more than humans. The message in this volume that 'ecological regeneration is the art of the possible' needs to be shared and cherished by scholars as well as practitioners."
—Pramod Parajuli, Ph.D., Graduate Faculty and Director, Prescott College

"This book is a timely contribution on the subject of where we find hope and meaning in a time of radical uncertainty. This is a vital piece for anyone wishing to engage in making a difference to our world. How tempting it is right now to make things definite—whether it be hope for a happy ending or despair that all is lost. Tolerating uncertainty, while engaging with suffering of both human and nonhuman worlds is, perhaps, the greatest spiritual challenge of our time. Read on for how this collection of diverse authors inspire us with their different ways of seeing and living this challenge."
—Mary-Jayne Rust, eco-psychologist and Jungian analyst

"Whether your New Year's resolution was to start your own garden this spring or begin biking to work as soon as the snow melts, my mission to you, should you chose to accept it (and you should) is to get your hands on a copy of this book. Share it with friends and family. Whether you read it cover to cover in one sitting or leave it in the bathroom and read one essay at a time, keep this anthology in sight so that it reminds you that you do have a voice, a vote, and a power to make change and inspire others to do the same."
—ImpactDash

"We can't think of a more practical and green book to read at the beginning of a fresh decade: Hope Beneath our Feet illuminates small and big steps you can take to be part of the solution – from flicking off your lights to making a major investment in alternative energy to more radical, out-of-the-box ideas."
—Practically Green

"Hope Beneath Our Feet provides much needed personal, spiritual and political inspiration as we grapple with how to live as loving and hopeful human beings in a world in grave danger."
—Francesca Rheannon, Writer's Voice radio

"In reading Martin Keogh's Hope Beneath Our Feet though, I realized that the importance of "going green." It celebrated the different ways we can all come together and work hard to set goals (and follow through on them!), instead of just waiting around for the next Earth Day to do something about it."
—Awakeningwomen.com

"This book is an excellent collection of authors who are raising issues, asking questions and posing solutions on both a large and small-scale."
—Food.Health.Love.

"Amazing, thought-provoking...a recognition of all the good things people are doing around the world, it is a call for action."
—Discover Deep Peace

"Mr. Keogh has compiled a generous supply of wisdom from thought leaders and influencers in the environmental and ecological movement to help us with this 'mind-boggling' and heart-breaking time. This is not a book to supply new figures on our pending ecological demise, but a gathering of souls who are taking stock, breathing deep and rolling up their sleeves."
—iamtheerica