Dragon and Tiger Medical Qigong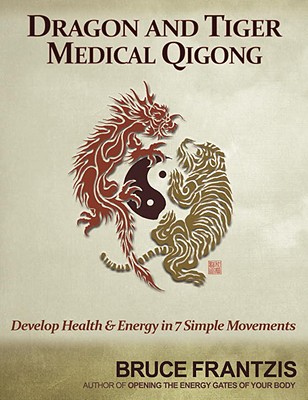 Dragon and Tiger Medical Qigong
Health and Energy in Seven Simple Movements
North Atlantic Books, Paperback, 9781556439216, 245pp.
Publication Date: November 23, 2010
* Individual store prices may vary.
Buy Now
or
Shop Local
Enter your zip code below to purchase from an indie close to you.
Description
Practiced by millions in China to release stress and maintain robust health, Dragon and Tiger qigong is also used to help prevent and heal cancer and to mitigate the effects of radiation and chemotherapy. Frantzis chose Dragon and Tiger from among several hundred sets he researched because its seven simple movements are easy to learn and offer about 80 percent of the health benefits found in the more complex sets of 50–100 movements.

Dragon and Tiger qigong uses simple body movements to accomplish the same chi balancing as acupuncture. Each movement is designed to stimulate not just a single meridian but groups of meridians. In Chinese medicine, the tiger is a metaphor for a strong, healthy liver and powerful muscles, and the dragon is a metaphor for healthy and strong lungs. The Dragon and Tiger form accomplishes three major changes in the body necessary for healing: it releases stagnant chi energy; increases the speed, strength, and evenness of the circulation of chi, blood, and other fluids; and quickly raises the body's energy levels to boost its natural healing capacities. With over 150 illustrations accompanying clear, thorough instructions, Dragon and Tiger Medical Qigong offers an accessible and effective path to health and healing.
About the Author
Bruce Frantzis is reputed to be the first Westerner to hold authentic lineages in Taoist energy arts. He studied healing, martial arts and meditation with renowned teachers in Asia for 16 years--including training in China for more than a decade.
Since 1987, Frantzis has taught chi gung, martial arts, TAO yoga, TAO meditation, and energetic-healing therapies to over 15,000 students in the United States and Europe. His teaching methods are spread by a growing number of certified instructors that he has trained in the United States and Europe.
Frantzis is the author of several widely praised books about the power of chi including: "Tai Chi: Health for Life; "the chi gung books, "Opening the Energy Gates of Your Body "and the" Dragon and Tiger Medical Chi Gung Instruction Manual; "and two volumes on the water method of TAO meditation," Relaxing Into Your Being" and "The Great Stillness," Two CDs, "The Tao of Letting Go" and "Ancient Songs of the Tao," shed valuable insights into the power of TAO Meditation in helping people let go of their deepest emotional blockages and move closer to becoming truly alive, balanced and joyful.
When Frantzis moved to China to follow the Taoist path of warrior/healer/priest, he was extensively trained in the chi principles and practices that are the basis of Chinese medicine. From 1974 to 1979, he trained with high-level chi gung tui na (therapeutic energy work) doctors and apprenticed under their tutelage in Chinese medical clinics. He learned to use chi to help heal a wide range of conditions including broken bones, nerve and organ damage and cancer. He also gained an advanced acupuncture degree.
Frantzis used these chi principles andpractices to dramatically heal himself: first from a life-threatening form of hepatitis in India and more dramatically from massive spine injuries that he received in a car accident in 1981.
Frantzis' experiences have made him a teacher with a mission: teaching people how the ancient and proven self-healing chi practices can help them achieve health, relaxation, inner peace and longevity. He aims to help avert a major health crisis that threatens to engulf the Western world.
Praise For Dragon and Tiger Medical Qigong…
"Dragon and Tiger Medical Qigong gives people a powerful way to take charge of their health and well-being."
—Kenneth Lossing, DO, Member of the Board of Governors of the American Academy of Osteopathy
 
"In this book, Bruce Frantzis maps out vital self-healing practices, with over 650 illustrations, showing you how to boost your immune system and cultivate your body's capacity to heal."
—Michael Reed Gach, PhD, founder of the Acupressure Institute and the author of Acupressure's Potent Points
 
"Because Dragon and Tiger is a simple and effective qigong practice, it is taught to students at the College of Integrated Chinese Medicine. Tracing the meridian lines helps our students to become more sensitive to both their own and their patients' chi and enables them to become better acupuncturists."
—John and Angela Hicks, Joint Principals, College of Integrated Chinese Medicine, Reading, England, and coauthors of Five Element Constitutional Acupuncture