Absinthe & Flamethrowers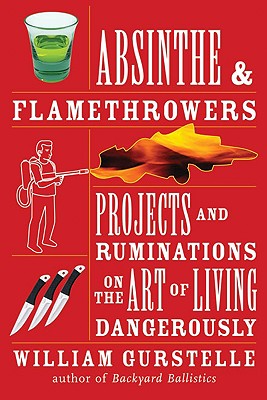 Absinthe & Flamethrowers
Projects and Ruminations on the Art of Living Dangerously
Chicago Review Press, Paperback, 9781556528224, 208pp.
Publication Date: June 2009
* Individual store prices may vary.
Shop Local
Enter your zip code below to find indies closest to you.
Description
A Selection of the Scientific American Book ClubWant to add more excitement to your life?This daring combination of science, history, and DIY projects will show you how. Written for smart risk takers, it explores why danger is good for you and details the art of living dangerously.Risk takers are more successful, more interesting individuals who lead more fulfilling lives. Unlike watching an action movie or playing a video game, real-life experience changes a person, and Gurstelle will help you discover the true thrill of making black powder along with dozens of other edgy activities.All of the projects from throwing knives, drinking absinthe, and eating fugu to cracking a bull whip, learning bartitsu, and building a flamethrower have short learning curves, are hands-on and affordable, and demonstrate true but reasonable risk.With a strong emphasis on safety, each potentially life-altering project includes step-by-step directions, photographs, and illustrations along with troubleshooting tips from experts in the field.
About the Author
William Gurstelle is a professional engineer who has designed, constructed, and collected ballistics experiments for more than 20 years.
Praise For Absinthe & Flamethrowers…
"If you ever wondered what happened to MacGyver, he lives in Minneapolis under the name of Bill Gurstelle."  Lee Zlotoff, creator, MacGyver
"If you can imagine Calvin of Calvin and Hobbes all grown up, this supercharged guide for amateur thrill-seekers would probably replace Hobbes as his constant companion."
  Publishers Weekly
"When it comes to the theory and practice of making your own noisy, mildly dangerous fun in the backyard, America has a new poet laureate. His name is William Gurstelle." 
New York Times
"The book is a sure-fire hit for people who want to get in touch with their inner MacGyver (to borrow a chapter title from the book) and for fans of television shows like MythBusters, which often involves building things that shoot or explode."  Booklist Online
"Scintillating."  MAKE Magazine Blog
"Learning to engage in acceptable levels of risk will result in sharpended critical thinking skills and an inner strength you didn't know you had. Just don't crack your new bullwhip indoors."  Twin Cities Metro
"Guys who consider "MythBusters" to be appointment TV might warm to this oddball piece of nonfiction, which aims to put a smile on science, if a rather mischievous one."  The Oklahoma Gazette
"Learning to engage in acceptable levels of risk will result in sharpended critical thinking skills and an inner strength you didn't know you had. Just don't crack your new bullwhip indoors."  Geek Monthly