Another Fine Mess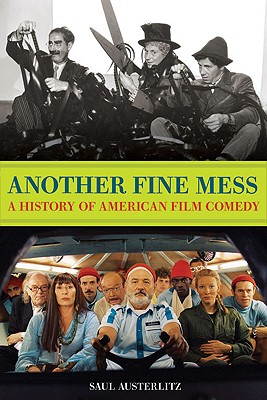 Another Fine Mess
A History of American Film Comedy
Chicago Review Press, Paperback, 9781556529511, 512pp.
Publication Date: September 1, 2010
* Individual store prices may vary.
Buy Now
or
Shop Local
Enter your zip code below to purchase from an indie close to you.
Description
Charlie Chaplin.Buster Keaton.The Marx Brothers.Billy Wilder.Woody Allen.The Coen brothers.Where would the American film be without them?Yet the cinematic genre these artists represent--comedy--has perennially received short shrift from critics, film buffs, and the Academy Awards.Saul Austerlitz's "Another Fine Mess" is an attempt to right that wrong.Running the gamut of film history from "City Lights" to "Knocked Up," "Another Fine Mess" retells the story of American film from the perspective of its unwanted stepbrother--the comedy.In 30 long chapters and 100 shorter entries, each devoted primarily to a single performer or director, "Another Fine Mess"retraces the steps of the American comedy film, filling in the gaps and following the connections that link Mae West to Doris Day, or W. C. Fields to Will Ferrell.The first book of its kind in more than a generation, "Another Fine Mess" is an eye-opening, entertaining, and enlightening tour of the American comedy, encompassing the masterpieces, the box-office smashes, and all the little-known gems in between.
Praise For Another Fine Mess…
"Entertaining reading."  Booklist


Conventional wisdom holds that analyzing comedy is a thankless task--who's to say what's funny, and why kill the fun of it?--but Saul Austerlitz's wide-ranging survey of American film comedy is both illuminating and hugely enjoyable. With its sharp insights and vivid biographical sketches, it's first-rate film criticism and a terrific resource to boot." Dennis Lim, editor, The Village Voice Film Guide
"I was enrapt, argumentative, gobsmacked, amused and ready to rethink what I know about American film comedy. Crack this book open, and let the debateand the flying piesbegin."  Glen David Gold, author,
Carter Beats the Devil
and
Sunnyside
"Comprehensive yet reader-friendly account."  LAWeekly.com
"A sprawling but incisive biography of film comedy history."  North County Times
"Entertaining and amusing . . . this book truly highlights the best of the genre."  COEDMagazine.com
"Clever and well-researched."  Library Journal Xpress Reviews
"Sharp, scholarly."  AmericanProfile.com