Factory of Tears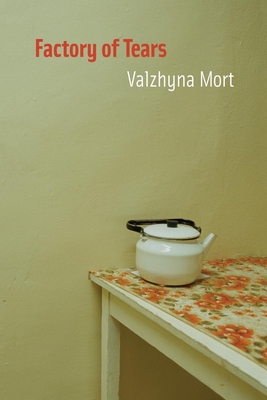 Factory of Tears
Copper Canyon Press, Paperback, 9781556592744, 116pp.
Publication Date: April 1, 2008
* Individual store prices may vary.
Buy at Local Store
Enter your zip code below to purchase from an indie close to you.
or
Buy Here
Description
"Mort...strives to be an envoy for her native country, writing with almost alarming vociferousness about the struggle to establish a clear identity for Belarus and its language." "The New Yorker"
Valzyhna Mort . . . can justly be described as a risen star of the international poetry world. Her poems have something of the incantatory quality of poets such as Dylan Thomas or Allen Ginsberg. . . . She is a true original. Cuirt International Festival of Literature
T]he searing work of Valzhyna Mort . . . dazzled all who were fortunate to hear her and] to be battered by the moods of the Belarus language which she is passionately battling to save from obscurity. "The Irish Times"
"(Mort) is most characterized by an obstinate resistance and rebellion against the devaluation of life, which forces her to multiply intelligent questions, impressive thoughts, and alluring metaphors, while her rhythm surprisingly arises as a powerful tool for the most dramatic moments of her verses....One of the best young poets in the world today." "World Literature Today"
Valzhyna Mort is a dynamic young poet who writes in Belarussian at a time when efforts are being made to reestablish the traditional language in the aftermath of attempts to absorb it into Russian. Known throughout Europe for her live readings, Mort's poetry and performances are infused by the politics of language and the poetry of revolution, where poems are prayers and weapons.
"when someone spends a lot of time running
and bashing his head
against a cement wall
the cement grows warm
and he curls up with it
against his cheek
like a starfish . . ."
Valzhyna Mort is a Belarussian poet known throughout Europe for her remarkable reading performances. Her poetry has been translated into several languages, and she is the recipient of the Gaude Polonia stipendium and was a poet-in-residence at Literarisches Colloquium in Berlin, Germany. She currently lives in Virginia.
Elizabeth Oehlkers Wright earned an MFA in translation from the University of Arkansas. Franz Wright won the Pulitzer Prize in Poetry for his book "Walking to Martha's Vineyard.
About the Author
Valzhyna Mort was born in 1981 in Minsk, Belarus. Her poetry has been translated into many European languages and published in various literary magazines and anthologies. A dynamic reader, in 2004 she received the Crystal of Velenica Award in Slovenia, which is awarded for reading performances. She currently lives in Virginia.



Born in Vienna, Franz Wright is the author of ten full-length collections of poetry. Walking to Martha's Vineyard (Knopf 2003) was awarded the Pulitzer Prize. His collections Wheeling Motel, Earlier Poems, and God's Silence were published by Knopf in 2009, 2007, and 2006. Wright's other works include the recent chapbooks ENTRIES OF THE CELL (Marick Press, 2010), 7PROSE (Marick Press, 2010), LEAVE ME HIDDEN (Marick Press, 2010) and THE CATFISH (Marick Press, 2007), and the full-length collections The Beforelife (2001), Ill Lit: New and Selected Poems (1998), Rorschach Test (1995), The Night World and the Word Night (1993), and Midnight Postscript (1993). Mr. Wright has also translated poems by Rene Char, Erica Pedretti, and Rainer Maria Rilke. He has received the PEN/Voelcker Award for Poetry, as well as grants and fellowships from the Guggenheim Foundation, the Whiting Foundation, and the National Endowment for the Arts. Wright has taught in many colleges and universities, including Emerson College and the University of Arkansas. He is currently the writer-in-residence at Brandeis. He has also worked in a mental health clinic in Lexington, Massachusetts, and as a volunteer at the Center for Grieving Children.