Juno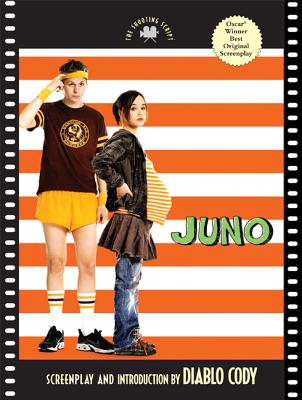 Juno
Newmarket Press, Paperback, 9781557048028, 112pp.
Publication Date: February 1, 2008
* Individual store prices may vary.
Buy Now
or
Shop Local
Enter your zip code below to purchase from an indie close to you.
Description
Meet Juno MacGuff (Ellen Page), a confidently frank teenage girl who calls the shots with a nonchalant cool and an effortless attitude as she journeys through an emotional nine-month adventure into adulthood. Quick-witted and distinctively unique, Juno walks Dancing Elk High's halls to her own tune preferably anything by The Stooges but underneath her tough, no-nonsense exterior is just a teenage girl trying to figure it all out.
While most girls at Dancing Elk are updating their MySpace page or shopping at the mall, Juno is a whip-smart Minnesota teen living by her own rules. A typically boring afternoon becomes anything but when Juno decides to have sex with the charmingly unassuming Bleeker (Michael Cera). Faced with an unplanned pregnancy, she and best friend Leah (Olivia Thirlby) hatch a plan to find Juno's unborn baby the perfect set of parents courtesy of the local Penny Saver.They set their sights on Mark and Vanessa Loring (Jason Bateman and Jennifer Garner), an affluent suburban couple longing to adopt their first child. Luckily, Juno has the support of her dad and stepmother (J. K. Simmons and Allison Janney). Juno's physical changes mirror her personal growth while the veneer of Mark and Vanessa's idyllic life starts to show signs of cracking. With a fearless intellect far removed from the usual teenage angst, Juno conquers her problems head-on, displaying a youthful exuberance both smart and unexpected.
About the Author
Writer Diablo Cody penned her debut screenplay "Juno" while working as a phone sex operator/insurance adjuster in Minneapolis. She did not attend Harvard. She is the author of the infamous and critically acclaimed memoir "Candy Girl: A Year in the Life of an Unlikely Stripper", and has appeared on CNN, the FOX Morning Show, and "Late Show with David Letterman". She lives in Los Angeles.

Jason Reitman makes his feature film directorial debut with "Thank You for Smoking". The accomplished director of such award-winning shorts as "In God We Trust" and "Gulp", which screened in more than 100 film festivals worldwide, he previously directed television commercials and received honors from the Cannes commercial awards, the Addys, as well as the highly coveted One Show. Reitman lives in Los Angeles. Christopher Buckley is editor of "Forbes FYI" magazine and the author of eleven books, many of them national bestsellers, including "Thank You for Smoking". He is the winner of the distinguished ninth annual Thurber Prize for American Humor. Buckley lives in Washington, D.C., with his wife and two children and dog, Duck.