Tango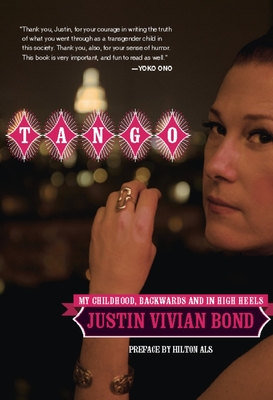 Tango
My Childhood, Backwards and in High Heels
Feminist Press, Paperback, 9781558617476, 136pp.
Publication Date: August 16, 2011
* Individual store prices may vary.
Not Currently Available for Direct Purchase
or
Shop Local
Enter your zip code below to purchase from an indie close to you.
Description
WINNER OF A 2012 LAMBDA LITERARY AWARD

"Like Bond, the memoir is droll, pensive and filled with zingers teetering between funny and ferocious."The New York Times
"Bond's fabulosity is matched by a trenchant wit, and [V's] over-the-top stories are smartly edged with politics, sexual or otherwise."The New York Times
Recently hailed as "the greatest cabaret artist of [V's] generation" in The New Yorker, Mx. Justin Vivian Bond makes a brilliant literary debut with this staggeringly candid and hilarious novella-length memoir.
With a recent diagnosis of attention deficit disorder, and news that his first lover from childhood has been imprisoned for impersonating an undercover police officer, Bond recalls in vivid detail coming of age as a trans kid. Always haunted by the knowledge of being "different," Bond was further confused when the bully next door wanted to meet secretly. Their trysts went on for years, and made Bond acutely aware of sexual power and vulnerability. With inimitable style, Bond raises issues about LGBTQ adolescence, homophobia, parenting, and sexuality, while being utterly entertaining.
Singer, songwriter, and Tony-nominated performance artist Mx. Justin Vivian Bond is an Obie, Bessie, and Ethyl Eichelberger Award winner. As one half of the performance duo Kiki and Herb, Bond has toured the world, headlining at Carnegie Hall, the Sydney Opera House, and London's Queen Elizabeth Hall, and starring in a Tony nominated run on Broadway, Kiki and Herb Alive on Broadway. His film credits include a role in John Cameron Mitchell's feature Shortbus. Bond is currently releasing a record, Dendrophile, and is writing a play with Sandra Bernhard.
About the Author


Hilton Als is a staff writer for "The New Yorker". "The Women" (FSG, 1997) was his first book. He lives in New York City.
Praise For Tango…
Thank you, Justin, for your courage in writing the truth of what you went through as a transgender child in this society. Thank you, also, for your sense of humor. This book is very important, and fun to read as well."
Yoko Ono

"Tango is a raw nerve touching an electric soul, a beautiful book, written with honesty, pain, and joy from one of our great modern day shamans."
Sandra Bernhard

"Justin Vivian Bond is a lightning rod, a solid steel structure in heels that attracts burning chaos and disciplines it into orderly submission. Am I allowed to say that Justin is God?"
Rufus Wainwright

"Tango should be in the hands of every child who can read, and of
every adult who cares about that child."
Michael Warner, author of The Trouble with Normal

Reading Tango is like listening to your favorite eccentric cousin or auntie tell you hair-raising tales of innocence lost and found, friendships forged of adversity, and bullies bewildered by their own perversity. Justin spins a one-of-a-kind story that you won't be able to put down."
Kate Bornstein, author of Gender Outlaw

When I say Justin Vivian Bond is a true original, what I mean is, Justin doesn't resemble anyone else on the face of the planet. When I say Justin Bond is touched by genius, I mean exactly that."
Michael Cunningham, author of The Hours