Two Whole Cakes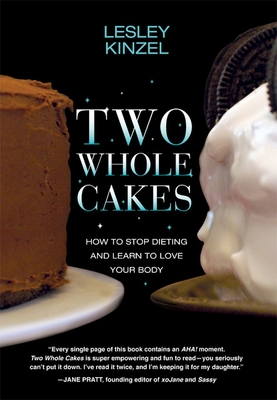 Two Whole Cakes
How to Stop Dieting and Learn to Love Your Body
Feminist Press, Paperback, 9781558617933, 160pp.
Publication Date: April 10, 2012
* Individual store prices may vary.
Buy Now
or
Shop Local
Enter your zip code below to purchase from an indie close to you.
Description

In the age of The Biggest Loser and the war on obesity, we re pressured to conform to certain body standards at any cost. Sure, everyone should eat right and get exercise, but what if you do that and you still don t fit into the clothes at the mall?
In "Two Whole Cakes," Fatshionista extraordinaire Lesley Kinzel tells stories, gives advice, and challenges stereotypes about being and feeling fat. Kinzel says no to diet fads and pills, shows by example how to stop hating your body, celebrates self-acceptance at any size, and urges you to finally accept the truth: your body is not a tragedy
Lesley Kinzel, who co-founded the blog Fatshionista, is an online celebrity in the communities of size acceptance, fashion, and women's issues. She has her own blog on body politics in the media, Two Whole Cakes, is an associate editor at xoJane, and has become the go-to fatty for all things fashion and pop culture.

Praise For Two Whole Cakes…
This accessible blend of memoir and cultural theory is a lifeline and a love letter; one is better off in the world for having read it."Marianne Kirby, co-author of Lessons From the Fat-o-Sphere

Two Whole Cakes is a vulnerable, funny, whip-smart, incendiary book that offers a delightfully readable way out of our culture's unrealistic expectations of body size and appearance."Hanne Blank, author of Big Big Love

"Every single page of this book contains an AHA! moment. Two Whole Cakes is super empowering and fun to readyou seriously can't put it down. I've read it twice, and I'm keeping it for my daughter." Jane Pratt, founding editor of xoJane and Sassy

I am extremely grateful that Lesley Kinzel is flooding cyberspace with provocative conversations about the political, financial, emotional, and spiritual struggles resulting from America's obsession with weight."
Camryn Manheim, actor and author of Wake Up, I'm Fat!