Juan and the Chupacabras/Juan y El Chupacabras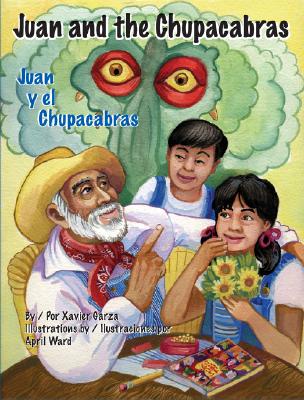 Juan and the Chupacabras/Juan y El Chupacabras
Pinata Books, Hardcover, 9781558854543, 32pp.
Publication Date: October 2006
* Individual store prices may vary.
Buy Now
or
Shop Local
Enter your zip code below to purchase from an indie close to you.
Description
"The beast had dark green skin and glowing red eyes that were the size of two baseballs," Abuelo tells his wide-eyed grandchildren. According to Abuelo, a creature called the Chupacabras lurks in the fields looking for fresh victims. Young Juan and his cousin Luz savor Abuelo's hair-raising stories. He tells the children of defeating terrifying fiends like the Chupacabras and La Llorona. The children cling to every word as he describes his brave stand-off with the Chupacabras, a terrifying beast with wings, claws and sharp fangs. But yet they wonder if there's more to his strange story than meets the eye. Plucky Luz hatches a plan to either disprove Abuelo's tale or hunt down the menacing monster and put an end to it once and for all. Armed with a bag of marbles dipped in holy water and a sling shot, the children venture into a cornfield one moonless night in search of the truth. Just like Chupacabras's thirst for blood and the children's appetite for Abuelo's stories, young readers aged 3-7 will devour the pages of this exciting picture book that transmits the storytelling traditions of the Mexican-American community from one generation to the next.

About the Author
Born and raised in the Rio Grande Valley, Xavier Garza is a prolific author, artist, and storyteller whose work focuses primarily on his experiences growing up in the small border town of Rio Grande City. Garza has exhibited his art and performed his stories in venues throughout Texas, Arizona and the state of Washington.

April Ward is the illustrator of Butterflies on Carmen Street/Mariposas en la calle Carmen (Pinata Books, 2007) and Juan and the Chupacabras/Juan y el Chupacabras (Pinata Books, 2006). Born and raised in the Pacific Northwest, she received a Bachelor of Fine Arts from Pratt Institute in Brooklyn, New York, and has been working in children's book publishing ever since. She currently lives in San Diego, California.