A Dybbuk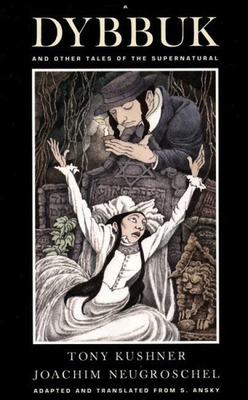 A Dybbuk
And Other Tales of the Supernatural
Theatre Communications Group, Paperback, 9781559361378, 192pp.
Publication Date: December 1, 1997
* Individual store prices may vary.
Buy Now
or
Shop Local
Enter your zip code below to purchase from an indie close to you.
Description
"Tony Kushner's adaptation of "A Dybbuk," perhaps the greatest classic of Yiddish drama, is passionate and illuminating." -Clive Barnes, "New York Post"
"Some playwrights want to change the world. Some want to revolutionize theater. Tony Kushner is that rarity of rarities: a writer who has the promise to do both." -"New York Times"
"As filtered through Kushner, the play has a deep wistfulness about a flawed but rich culture on the precipice of apocalyptic change, about technology poised to tear through ancient truths and the seductions of assimilation ready to devastate whatever culture is left after the slaughters of the twentieth century." -Linda Winer, "Newsday"
The first part of the book features Tony Kushner's remarkable, imaginative adaptation of "The Dybbuk" by S. Ansky (from Joachim Neugroschel's translation), with an afterword by Harold Bloom. Considered by many to be the greatest Yiddish drama, "The Dybbuk" recounts the tale of a wealthy man's daughter who is possessed by the spirit of her dead beloved. Also included in this volume is a selection of stories translated into English for the first time by Joachim Neugroschel, illuminating different aspects of the Jewish mystical world, including possessions, transmigration, fairy tales, parables and miracles.

About the Author


S. Ansky, Shloyme-Zanvel Rappaport (1863 1920), who wrote under the name Semyon Akimovich Ansky, was born in Belarus to a traditional, Yiddish-speaking Jewish family. He became a populist activist, ethnographer, and author of fiction, poetry, and drama in Yiddish and Russian. From 1911 to 1914, he traveled through villages as head of a Jewish ethnographic expedition. A story he heard during his researches became the foundation for his famous play, The Dybbuk.

Tony Kushner is the author of over two dozen plays, including Angels in America, for which he received the Tony Award and the Pulitzer Prize for the best play of 1993.