Transforming Adversity Into Joy and Courage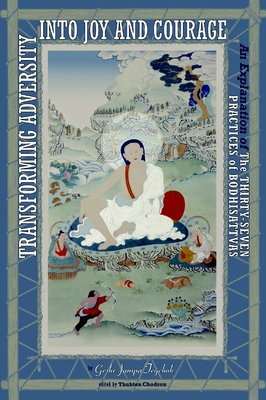 Transforming Adversity Into Joy and Courage
An Explanation of the Thirty-Seven Practices of Bodhisattvas
Snow Lion Publications, Paperback, 9781559392327, 312pp.
Publication Date: September 2005
* Individual store prices may vary.
Buy Now
or
Shop Local
Enter your zip code below to purchase from an indie close to you.
Description
A practical and inspiring guide for developing our ability to be happy and benefit others this commentary on The Thirty-Seven Practices of Bodhisattvas by Gyalsay Togme Sangpo is studied by followers of all schools of Tibetan Buddhism. The root text gives in thirty-seven short verses the essential practices leading to enlightenment. Gyalsay Togme Sangpo (1295-1369) was renowned as a bodhisattva in Tibet and revered for living according to the bodhisattva ideals and practices that he taught. He inspired not only his direct disciples but also generations of practitioners up to the present day. This extraordinary commentary by Geshe Jampa Tegchok clearly explains the popular practice of exchanging oneself with others for developing love and compassion for all living beings. It lays open the methods for doing glance stabilizing and analytical meditations and offers an in-depth discussion of the nature of emptiness. All the essentials are here for transforming our attitudes and developing courage and joy.
About the Author
The monk Tegchok (born 1930) studied the major Buddhist treatises at Sera-je Monastic University in Tibet for 14 years before fleeing his homeland in 1959 following Chinese communist occupation of his country.

Tenzin Gyatso, the Fourteenth Dalai Lama, is the spiritual leader of the Tibetan people. Born in northeastern Tibet in 1935, he was as a toddler recognized as the incarnation of the Thirteenth Dalai Lama and brought to Tibet's capital, Lhasa. In 1950, Mao Zedong's Communist forces made their first incursions into eastern Tibet, shortly after which the young Dalai Lama assumed the political leadership of his country. In 1959, Chinese forces occupied the city, forcing His Holiness to escape to India. There he set up the Tibetan government-in-exile in Dharamsala, working to secure the welfare of the more than 100,000 Tibetan exiles and prevent the destruction of Tibetan culture. In his capacity as a spiritual and political leader, he has traveled to more than sixty-two countries on six continents and met with presidents, popes, and leading scientists to foster dialogue and create a better world. In recognition of his tireless work for the nonviolent liberation of Tibet, the Dalai Lama was awarded the Nobel Peace Prize in 1989. In 2012, he relinquished political authority in his exile government and turned it over to democratically elected representatives. He is the author of numerous books, including "The Good Heart", "The Meaning of Life", "The World of Tibetan Buddhism", and "The Compassionate Life".