Introduction to Emptiness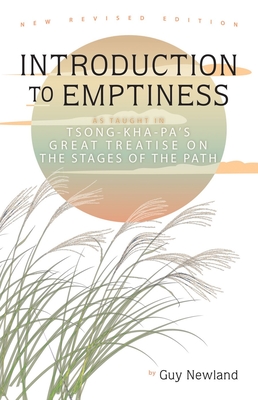 Introduction to Emptiness
As Taught in Tsong-Kha-Pa's Great Treatise on the Stages of the Path
Snow Lion Publications, Paperback, 9781559393324, 136pp.
Publication Date: October 16, 2009
* Individual store prices may vary.
Buy at Local Store
Enter your zip code below to purchase from an indie close to you.
or
Not Currently Available for Direct Purchase
Description
Readers are hard-pressed to find books that can help them understand the central concept in Mahayana Buddhism—the idea that ultimate reality is emptiness. In clear language, Introduction to Emptiness explains that emptiness is not a mystical sort of nothingness, but a specific truth that can and must be understood through calm and careful reflection. Newland's contemporary examples and vivid anecdotes will help readers understand this core concept as presented in one of the great classic texts of the Tibetan tradition, Tsong-kha-pa's Great Treatise on the Stages of the Path to Enlightenment. This new edition includes quintessential points for each chapter.
About the Author
Guy Newland is Professor of Religion and Chair of the Department of Philosophy and Religion at Central Michigan University, where he has taught since 1988. He is a translator and co-editor of the three-volume translation Great Treatise on the Stages of the Path to Enlightenment, and is the author of several books on Tibetan Buddhism, including Appearance and Reality.
Praise For Introduction to Emptiness…
"Written with illumination from a terrific scholar."—Jeffrey Hopkins, author of A Truthful Heart 

"This magnificent, readable, and thoroughly engaging work is a modern classic in the making. It invites new practitioners and learned scholars alike to look afresh at the dazzling array of teachings from one of the greatest figures in the Tibetan Buddhist tradition."—Anne Carolyn Klein , author of Meeting the Great Bliss Queen and Unbounded Wholeness

"Introduction to Emptiness is a marvelously clear, marvelously precise exposition of Tsong-kha-pa's understanding of emptiness and of the two truths as presented by Nagarjuna and Chandrakirti. . . . While the exposition is rich in technical detail and textual reference, it is absolutely accessible to the beginning student. It will be required reading in my Buddhist philosophy courses."—Jay L. Garfield, author of Ocean of Reasoning and Fundamental Wisdom of the Middle Way

"Understanding emptiness is the key to the most important aspects of Buddhism—wisdom, compassion, tantra—but is difficult to teach. Guy Newland has drawn on long experience with college students to write a short but rich and pithy guide to emptiness that brims with common sense and apt examples. Anyone interested in Buddhism would benefit from reading it."—Daniel Cozort, author of Buddhist Philosophy and Highest Yoga Tantra

"A guide that furnishes the tools and motivation for further exploration and even the confidence to take the next step, whatever that might be. . . . Introduction to Emptiness is an open-armed invitation into an important and all-too-often forbidding realm of study."—Tricycle

"Fresh and straightforward. . . . Complete and comprehensive."—Buddhadharma: The Practitioner's Quarterly

"Newland has written a guide that furnishes the tools and motivation for further exploration and even the confidence to take the next step, whatever that might be for the readers to try to comprehend clearly the difficult subject of emptiness, which forms the most crucial aspect of Mahayana Buddhism."—Eastern Horizon

"Guy Newland performs a remarkable feat by presenting the complex concept of emptiness with great clarity and lucidity. The book is highly recommended for those who are at the initial stage of entry into the vast realm of the Buddhist thought. It is equally useful for those who have traversed their journey quite a bit."—Tibet Journal

"The author makes it clear that emptiness is not a certain spacey-ness but rather it is reality as it is. The thirteen pages of Chapter Bullet Points is an innovative way to provide an outline of this seminal work in Buddhist thought."—New Age Retailer

"Newland has once again tackled the central concept of Mahayana Buddhism in this improved presentation. The book is actually a reworked and fine-tuned version of his earlier edition and brings greater clarity to Tibetan Buddhism's essential philosophical point. . . . Using contemporary examples and vivid anecdotes, the author clearly shows us how to find the answers to what is emptiness."—Mandala Magazine