A Complete Guide to the Buddhist Path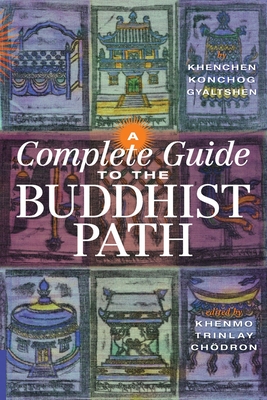 A Complete Guide to the Buddhist Path
Snow Lion Publications, Paperback, 9781559393423, 486pp.
Publication Date: March 16, 2010
* Individual store prices may vary.
Buy Now
or
Shop Local
Enter your zip code below to purchase from an indie close to you.
Description
Buddhist teachings provide numerous methods for bringing greater meaning and happiness into our lives and into our relationships with others. In "A Complete Guide to the Buddhist Path," Khenchen Konchog Gyaltshen Rinpoche reveals these methods in direct, vibrant, down-to-earth language. At the core of this work lies "The Jewel Treasury of Advice," a text composed by Drikung Bhande Dharmaradza (1704 1754), the reincarnation of Drikung Dharmakirti. Khenchen Rinpoche interprets these ancient teachings with compassion, humor, and a keen awareness for their relevance in contemporary Western life. Those who sincerely want to study and practice the Buddha's teachings will find this an indispensable guide.
About the Author
His Eminence Gar Konchog Nyidon Nyima Chokyi Senge was born in 1936. His Holiness Zhiwe Lodro (the prior Chetsang Rinpoche, 1886 - 1943) recognized him to be the incarnation of Garchen Thrinley Yongchap. From the age of seven to twenty-two he stayed at the Drikung monastery called Lho Miyel-gon. At a young age he was given a special ordination during which he recognized Lord Jigten Sumgon in a portrait and said, "This is my lama." During this period his former disciple, Chime Dorje, taught Rinpoche. When Garchen Rinpoche was thirteen, Chime Dorje gave him the Mahamudra teachings. Thereafter he received all the Drikung Kagyu empowerments and teachings, started ngondro practice, and studied the Six Yogas of Naropa. During the Cultural Revolution there were no Dharma teachings. However, he secretly received instructions from Khenpo Munsel. With great perseverance, he practiced the teachings for twenty years. Khenpo Munsel was very pleased and said; "He is a very special bodhisattva incarnation. Of this there is no doubt." Garchen Rinpoche is currently establishing a Buddhist College at his monastery Lho Longkar Gon for about one hundred monks. Whatever food or wealth he receives as offerings is always used for the monks and nuns. He keeps nothing for himself. He is very respectful to all persons. With loving-kindness, compassion and bodhicitta he thinks only of how to benefit others. (Background notes are taken from the article "Introducing...His Eminence Garchen Rinpoche" in the Dharma Wheel, the quarterly newsletter of the Tibetan Meditation Center, Vol. 4, Spring, 1997).


Praise For A Complete Guide to the Buddhist Path…
"I am delighted to know that Khenchen Konchog Gyaltshen has written A Complete Guide to the Buddhist Path. Because it is written in a manner that is easy to understand, it will reach far and wide. This book contains the complete teachings of Buddhism, from the very basic up to the very profound trainings of the Mahayana and Vajrayana systems, including the Six Yogas of Naropa. . . . The practice of all these teachings step-by-step will lead us one day to bear the fruit of complete enlightenment. I therefore thank Khenchen Rinpoche and welcome his light of commentary to illuminate the teachings of our great Lamas making them available to all."—Drikung Kyabgon Chetsang, from the Foreword

"A masterpiece of poetry and a profoundly moving religious instruction . . . [it] indeed encompass[es] the entire path as it is understood in Tibetan Buddhism. . . . The book can be read from start to finish or opened anywhere. The editors have done an excellent job with the book."—Buddhadharma: The Practitioner's Quarterly



"A fresh, intimate, and timely interpretation that will meet the needs of those who want to deepen their practice and understanding of the teachings of the lamas of Tibet. Reading this work is like having a wise, compassionate, and learned teacher at your side one who knows that laughter is an important component of spiritual life. . . . Readers new to Tibetan Buddhism will be aided by the glossary of specialized terms and the descriptions of persons mentioned in the book and will find the annotated bibliography a valuable aid to further study. . . . Th[is] work contains the essence of dharma teachings and goes deep enough to meet the needs of the serious student; it is a highly recommended guide to be kept at one's side and read over and over again."—Spirituality & Health

"A Complete Guide to the Buddhist Path lives up to its title by presenting the methods that Buddhism offers for improving the quality of one's life in plain terms accessible to readers of all backgrounds. . . . Invaluable to anyone seeking to better follow, understand, and practice the Buddha's teachings in everyday life."—Library Bookwatch