The Treasury of Knowledge, Books Nine and Ten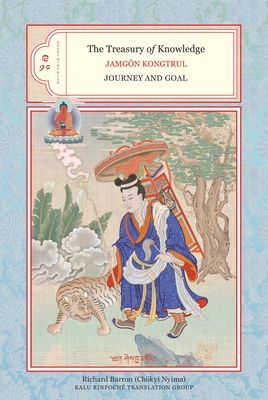 The Treasury of Knowledge, Books Nine and Ten
Journey and Goal: An Analysis of the Spiritual Paths and Levels to Be Traversed and the Consummate Frui
Snow Lion Publications, Hardcover, 9781559393607, 702pp.
Publication Date: December 16, 2010
* Individual store prices may vary.
Buy at Local Store
Enter your zip code below to purchase from an indie close to you.
or
Not Currently Available for Direct Purchase
Description
Jamgon Kongtrul's ten-volume Treasury of Knowledge is a unique, encyclopedic masterpiece embodying the entire range of Buddhist teachings as they were preserved in Tibet. Tibetan Buddhist teachers expected their students to study Buddhist philosophical texts as well as practice reflection and meditation; present-day students have also realized that awakening has its source in study as well as in reflection and practice. Journey and Goal focuses on the spiritual path--the journey and the resultant state of enlightenment to which it leads--the goal. Extensively varied perspectives are offered not only from within the many schools of Buddhism but also from the different levels of practice and attainment. This is in fact the most comprehensive treatment of these themes to appear in the English language.
About the Author
Jamgon Kongtrul (1813-1899) was a versatile and prolific scholar. He has been characterized as a "Tibetan Leonardo" because of his significant contributions to religion, education, medicine, and politics.
Praise For The Treasury of Knowledge, Books Nine and Ten…
"The Treasury of Knowledge excellently presents the entire corpus of the sutra and mantra traditions from the paths of the common sciences all the way up to the uncommon Great Perfection or Atiyoga, which is the culmination of the nine vehicles."—H.H. Dudjom Rinpoche

"Jamgön Kongtrül Lodrö Tayé was one of the leading scholars of the nineteenth century. He broke through sectarian constraints and achieved a deep understanding of the the different philosophical approaches in Tibet. I have no doubt that by studying Kongtrul's works readers will be inspired to emulate his great qualities of humility, dedication, patience, and nonsectarianism."—H.H. the Dalai Lama

"Upon seeing the Treasury of Knowledge, the first Khyentse Rinpoche (a contemporary of Lodrö Thayé) said that it was so inclusive of all knowledge that it did not seem to be composed by a human being but must have been written through the blessing of the dakinis."—Khenchen Thrangu Rinpoche

"In his monumental Treasury of Knowledge, [Jamgön Kongtrül] presents a complete account of the major lines of thought and practice that comprise Tibetan Buddhism. . . . By studying Kongtrül's works, readers will be inspired to emulate his great qualities of humility, dedication, patience, and nonsectarianism."—The Indian International Journal of Buddhist Studies

"The rooftop of the vast edifice of The Treasury of Knowledge is also one of its most important pieces, showing how the entire Buddhist path hangs together. From the level of a beginner via the lofty realms of the bodhisattva levels and the Vajrayana and Dzogchen journeys, the various routes practitioners can travel on their way to buddhahood are mapped out in a clear and comprehensive manner. This volume provides the long-needed road map for enlightenment that puts the various levels of Buddhist practices into perspective within the larger picture."—Karl Brunnhölzl, author of The Center of the Sunlit Sky and Gone Beyond

"One of Tibet's greatest jewels, the polymath and Rime scholar Jamgön Kongtrül, demonstrated his vast erudition in his ten-book Treasury of Knowledge. Tsadra Foundation and Snow Lion are to be congratulated for their commitment to publishing the entirety of this encyclopedic work. This present volume, Journey and Goal, comprises Books Nine and Ten of the Treasury and provides the English reader with a detailed picture of the journey—spiritual transformations leading to resultant states of enlightened expanse. The translator of this volume, Richard Barron, previously translated Kongtrül's autobiography. Here Mr. Barron gives us a precise and detailed account of Mahayana and Vajrayana approaches to transformation. It is destined to become a classic reference for scholars and practitioners alike."—Professor Steven Goodman, California Institute of Integral Studies

"When the opportunity to pore over a systematic and exhaustive study of the grounds and paths on which Buddhist practitioners travel to their various destinations comes along, to seize it unforgivingly may prove transformative in ways that little else can. Richard Barron's translation of this volume makes it possible for an earnest student of the Buddhadharma to look with a steady eye at the extraordinary voyage upon which he or she has embarked."—Jules B. Levinson, translator of Essential Practice