The Seven-Point Mind Training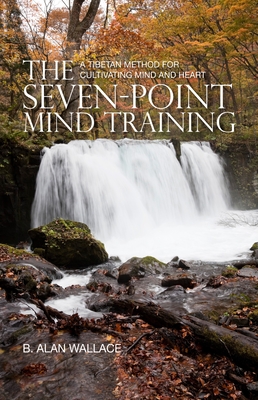 The Seven-Point Mind Training
A Tibetan Method for Cultivating Mind and Heart
Snow Lion Publications, Paperback, 9781559393935, 150pp.
Publication Date: May 16, 2012
* Individual store prices may vary.
Buy at Local Store
Enter your zip code below to purchase from an indie close to you.
or
Buy Here
Description
In this society, with its hurly-burly pace demanding of our time, it is ever so easy to let life slip by. Looking back after ten, twenty, thirty, years—we wonder what we have really accomplished. The process of simply existing is not necessarily meaningful. And yet there is an unlimited potential for meaning and value in this human existence. The Seven-Point Mind Training is one eminently practical way of tapping into that meaning. At the heart of the Seven-Point Mind Training lies the transformation of the circumstances that life brings us, however hard as the raw material from which we create our own spiritual path. The central theme of the Seven-Point Mind Training is to make the liberating passage from the constricting solitude of self-centeredness to the warm kinship with others which occurs with the cultivation of cherishing others. This Mind Training is especially well-suited for an active life. It helps us to reexamine our relationships—to family, friends, enemies, and strangers—and gradually transform our responses to whatever life throws our way.
About the Author
B. Alan Wallace, PhD, has been a scholar and practitioner of Buddhism for more than forty years, and has been leading workshops and retreats on dream yoga for more than twenty. A former Tibetan Buddhist monk, he is also trained in physics and is a respected scholar of religion. He is the founder of the Santa Barbara Institute for Consciousness Studies, and he is the author of numerous books, including Embracing Mind: The Common Ground of Science and Spirituality.
Monir Shahroudy Farmanfarmaian was born in 1924. She now lives and works in New York.
Zara Houshmand is an Iranian American writer and theater artist. She lives in Austin, Texas.
"From the Hardcover edition."
Praise For The Seven-Point Mind Training…
"The increasing popularity of the Lojong or Mind Training teachings in Western Buddhism would seem to indicate a growing maturity among practitioners. Therefore, we welcome this new edition of Alan Wallace's teachings on the Seven-Point Mind Training, wherein he presents a clear and insightful commentary on this precious root text by Geshe Chekawa." —Tenzin Palmo, author of Into the Heart of Life

"When chaos seems to surround you, this book steers you on a clear path filled with kindness and compassion. The Seven-Point Mind Training is one of my favorite texts." —Thubten Chodron, author of Buddhism for Beginners and Cultivating a Compassionate Heart

"The techniques advocated by Wallace have more immediacy than ever. This book, though rich in Tibetan wisdom, is written in a clear, concise, informative, and entertaining manner for easy assimilation into the Western mindset." —Ashé Journal of Experimental Spirituality

"Alan Wallace is one of the great Western Buddhist thinkers of our day." —Howard Cutler, coauthor with H. H. the Dalai Lama of The Art of Happiness