Cancer in the Community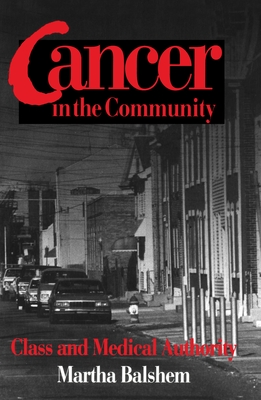 Cancer in the Community
Cancer in the Community
Smithsonian Institution Press, Paperback, 9781560982517, 174pp.
Publication Date: August 1993
* Individual store prices may vary.
Shop Local
Enter your zip code below to find indies closest to you.
Description
Focusing on deep conflicts between the medical establishment and the working class, Martha Balshem chronicles a health education project in "Tannerstown," a pseudonym for a blue-collar neighborhood in northeast Philadelphia.
About the Author
Praise For Cancer in the Community…
"Balshem conducted anthropological research as a means of exploring the limitations and possibilities of community-based approaches to cancer prevention. . . . [Her] study serves as a useful first step to a multidisciplinary literature on cancer, broadening analyses of this complex disease in much the same way that social science and grassroots perspectives helped inform the transition from gay-related immune deficiency (GRID) to HIV disease."—American Journal of Preventative Medicine

"One of the finest pieces of urban ethnography to emerge in recent years. . . . By focusing on cancer and a program set up to reduce its incidence, Balshem illuminates the basic struggles of social class, power inequalities, and control of knowledge. Any pharmacist or other health-care professional who works, or may work, with communities that resemble Tannerstown should find this book insightful, informative, and helpful. Similarly, medical social scientists interested in the dynamics of class conflict in urban America will appreciate the profound anthropological analyses of this humane work."—American Journal of Health-System Pharmacy

"Fascinating and thought-provoking. Showing clearly that the relationship between patients' families and physicians is a class-based phenomenon, Balshem explores community residents' feelings that health education is an outsider's attempt at control. . . . Her book is not only a report of a project but also a guide and a warning to those setting up similar programs."—Booklist

"[Cancer in the Community] raises questions not often asked by health-care professionals, yet necessary to achieve any success with current national health-care proposals."—Choice

"Anthropologist Balshem worked as a health educator in a blue-collar white ethnic neighborhood in northeast Philadelphia, a cancer hot spot she calls 'Tannerstown,' and she offers some worthwhile reflections on 'negotiating professional authority.' Balshem's interviews . . . clearly show how medical professionals both shy away from environmental factors and act in an authoritarian way toward their working-class patients. She argues that health educators should listen more to community critiques."—Publishers Weekly