Slacks and Calluses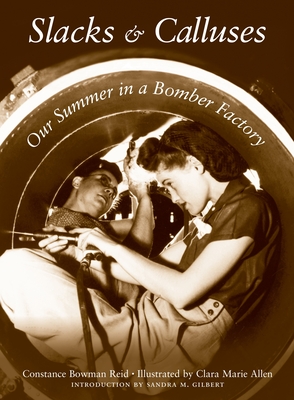 Slacks and Calluses
Slacks and Calluses
Smithsonian Institution Press, Paperback, 9781560983682, 181pp.
Publication Date: October 17, 2004
* Individual store prices may vary.
Buy at Local Store
Enter your zip code below to purchase from an indie close to you.
or
Not Currently Available for Direct Purchase
Description
   In 1943 two spirited young teachers decided to do their part for the war effort by spending their summer vacation working the swing shift on a B-24 production line at a San Diego bomber plant. Entering a male-dominated realm of welding torches and bomb bays, they learned to use tools that they had never seen before, live with aluminum shavings in their hair, and get along with supervisors and coworkers from all walks of life. 
   
   They also learned that wearing their factory slacks on the street caused men to treat them in a way for which their "dignified schoolteacher-hood" hadn't prepared them. At times charming, hilarious, and incredibly perceptive, Slacks and Calluses brings into focus an overlooked part of the war effort, one that forever changed the way the women were viewed in America.
About the Author
Constance Bowman Reid has written many highly acclaimed biographies of twentieth-century mathematicians. She lives in San Francisco, CA.
Praise For Slacks and Calluses…
"[A] rare contemporaneous account. . . . [Bowman and Allen] wandered into a mostly male world of wrenches and rivets, forever changing society's view of what women could and should do. . . .Wide-eyed and witty."—San Diego Union-Tribune


"An enjoyable book, a smooth read, a vibrant reminder of a time of near-unanimous citizen support for American political strategies and goals. It harkens from an era when the myth of 'one America' still held sway. It is also a tale of two women negotiating gender, identity, autonomy and cross-class insights. Fifty-six years later, readers are fortunate the authors put pencil to paper each night upon their return home from the bomber factory. Theirs is a story worth hearing and remembering." —The Journal of San Diego History

"Bowman and Allen's journal-like account offers valuable insights into the experiences of these two young, white women who engaged in decidedly unfeminine behavior, by the standards of 1943, on behalf of the war effort."—The Historian

"Without being the least bit polemic, Bowman Reid teaches us about the war roles of men and women and how the changing costumes of women - from linen skirts to slacks - reflects socioeconomic change."—San Jose Mercury News